Violinist plays a surprisingly charming duet… with her bleeping washing machine
19 January 2023, 18:08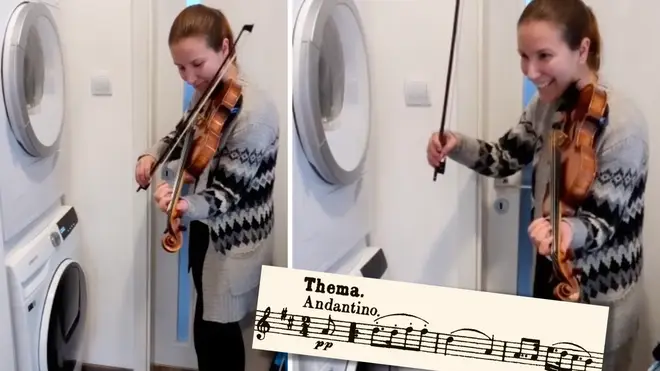 One of classical music's great melodies is now a viral duet, thanks to this lyrical washing machine.
A catchy classical melody sometimes pops up in the most unexpected places.
And wherever there's a 19th-century earworm, there's usually an enterprising musician nearby to make the most of it.
When designing this particular clothes washing machine, Korean electronics company Samsung was not content with the usual electronic beeps to mark the cycle's completion. Instead it seems as if they reached for one of Franz Schubert's most beloved melodies Die Forelle, better known as 'The Trout', and gave it an electronic spin.
With violin in hand, musician and Instagrammer Boglarka Gyorgy couldn't resist giving the lyrical appliance the accompaniment it deserved.
Read more: Bleating billygoat 'sings' along during animal blessing at cathedral service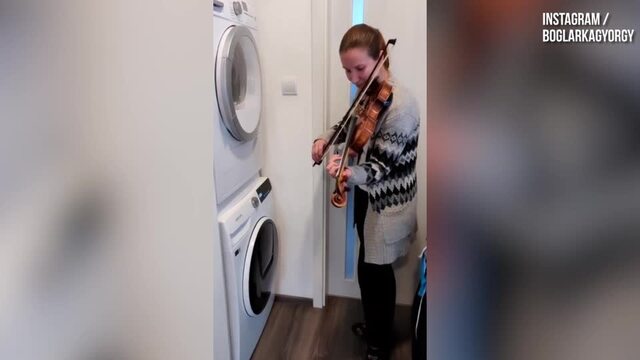 Violinist performs quirky duet with her washing machine
'The Trout' melody is a Lied or song by Schubert, and also forms the melody for the central theme and variations in a Schubert quintet known by the same name.
Schubert's Piano Quintet in A is scored for the somewhat uncommon quintet of violin, viola, cello, double bass. Its fourth movement features the Lied's tune, followed by all sorts of inventions and accompaniments (including the violin part of this duet).
The charming and breezy work was written when the composer was 22 years old, and has since become one of the most beloved works of chamber music.
It's fair to say the unlikely outing of The Trout's theme has caught a large, appreciative audience. The post published on Instagram in early January has over 120,000 likes.
"My two year old thinks this is an absolute banger. Thank you," said Instagrammer gofredo50. "Sounds fishy to me," said another.
And now, doing household chores can never again be an excuse for practising your instrument. Gee, thanks for that Samsung and Schubert!