Meet RIOPY: the unbreakable French pianist who escaped a childhood cult
20 January 2023, 17:20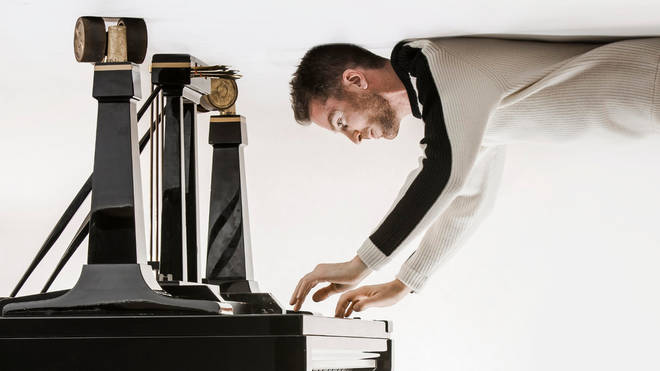 From growing up in a violent sect, to a chance encounter with Coldplay's Chris Martin that led to the gift of a piano, RIOPY's tale is one of perseverance - but with the power of music at the heart of everything.
"I've always said, I don't play the piano out of passion", RIOPY (full name, Jean-Philippe RioPy) began, facing an audience of attentive listeners at the Shoreditch Treehouse last Thursday.
"I play the piano out of necessity," he continued, "When you have this intense pain inside yourself, some people go and workout or exercise to get rid of it. For me, I have to go and play the piano".
At surface level, this is a somewhat dramatic opening to the East London launch event of the French pianist's fourth album with Warner Classics, Thrive. However, RIOPY has every right to align his music making to this intense pain he refers to.
The 39-year-old grew up in a violent sect in western France with his mother and four siblings, a time in his life he still can't publicly speak about in detail, but one in which he has been able to channel into his music.
Speaking to Classic FM he explained, "You know, sometimes I can't find the words to express myself, whether that's in French or English. But music is the deepest connection to emotions – it's how I am able to express an emotion that I can't with words.
"A good example of this from my new album is the piece, Nocturne".
Read more: Why does music make us feel certain emotions?
He continued, "for me, the Nocturne I wrote has a deep, deep sadness to it, and an overly dramatic sentiment. But I can't explain this sound in spoken word, as it's derived from an emotion."
RIOPY is a self-taught pianist and composer, an incredible feat for a musician signed to a major classical label – but an even greater testament to his skill and drive when you take into account his past.
In the rural French sect he grew up in, the 'guru' leader of the community banned all music and television. However, on a chance visit to a doctor when his brother needed treatment, RIOPY found himself in a castle full of pianos.
"We visited a doctor in this castle," he recounted, "and while waiting for my brother, a man told me I could play any of the pianos, so I ran around trying to play all of them. I remember this man saying to my mum that, I had a gift.
"I had such a traumatic youth, but occasionally I had one moment like this, which stuck with me forever."
RIOPY continued to play throughout his childhood in the cult, on an abandoned piano he found which he played in secret.
"I say to everybody all the time, do what you love – or you won't do it," he resumed enthusiastically, "because I loved playing that piano. I could play just four notes over and over again for two hours."
From the cult, to rubbing elbows with the stars, to then becoming one
Age 18, RIOPY ran away from the cult, leaving his family and traumatic youth behind, and after short stints in Paris and Los Angeles, a string of circumstances led him to the UK.
Here he began working in the famed Reading music shop, Hickies, and a stranger visiting the shop one day heard RIOPY playing on one of the pianos, and helped him gain a scholarship to study music at Oxford Brookes University.
The following years were tumultuous for the French pianist, but he also still able to play, and landed performance opportunities that were able to keep him afloat.
2011 was a life-changing year for the musician. He was offered a chance to play for a high-profile part organised by the British magazine, Vanity Fair. The room in the glitz London venue was filled with a host of famous faces, but one changed his life; it was that of Chris Martin – lead singer of the band, Coldplay.
Read more: Coldplay and Liszt melodies have been synchronised in this beautiful music doodle
After RIOPY played, he received a standing ovation from Martin, who then signalled the pianist over to him, where they talked for a few minutes.
Martin would later approach RIOPY's manager at the time and ask how he could help the young artist, to which his manager responded, "well...he really needs a piano".
And that was how Chris Martin bought RIOPY a Steinway Grand Piano.
It wasn't just his piano performance abilities that flourish during the 2010s. The French pianist began composing for adverts and trailers, with heavy hitters including writing the trailer music for the Oscar-winning fantasy film, The Shape of Water.
His music features on the 'Calm' meditation and sleep app, and in 2022, his album, Tree of Light, peaked at number 1 in the on the Billboard Classical Album chart.
RIOPY's latest brush in with the world of pop music is at the bequest of the musically melancholic songstress, Lana Del Rey.
The American singer-songwriter reached out to RIOPY and asked to use his track Flo from his Tree of Light album.
RIOPY told Classic FM, "[Lana] reached out to me and told me she loved my music, she had fallen in love with the track, and she had written lyrics on top of it.
The song Lana wrote is called Grandfather please stand on the shoulders of my father while he's deep-sea fishing and is track number 11 on her new album coming in March later this year.
"When I first went to listen to her piece," RIOPY continued, "I was scared, because you know – that's my music, and I'm not in the pop world, so I didn't know what to expect.
"But the first time I heard it I could see... the sea. I saw the liquid blue. I think she did a great job – it's very elegant, and it's very classy."
With RIOPY's own album on the horizon, the pianist will also be conducting his first UK tour, despite having lived in England for over 18 years.
"I'm more excited about this next tour than I have been for a very long time," RIOPY enthused, "because England really is my home. It's where I met my wife, and had my children. I feel like I've been waiting for this tour, forever".
Nocturne, the first single from RIOPY's album, was released today, and you can listen to it now.