Dog spotted confidently singing and playing at owner's piano
22 May 2023, 12:09 | Updated: 22 May 2023, 12:23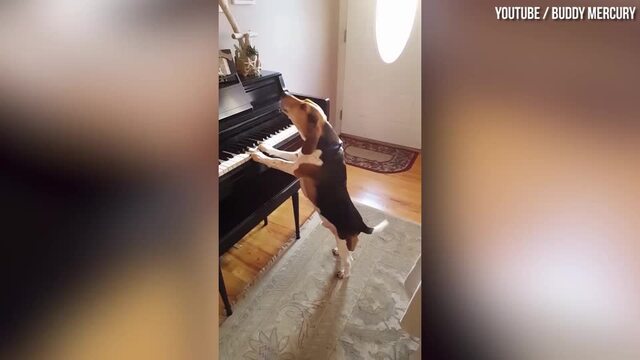 Dog sings and plays piano in adorable clip
Watch and enjoy as this musical dog – who was clearly a jazz pianist in a former life – sings for his supper.
Entirely of his own accord, this singing dog likes to sit at the piano, and just howl his heart out.
"I'm literally just sitting here and he's playing the piano," his owner's niece, who posted this latest video (watch below on Instagram), comments during the clip, which she filmed in the dining room area of her uncle's house.
"Literally… he just got up there."
Buddy Mercury, who is a beagle-basset mix, is a deeply talented artist whose performance have gone viral over the last few years.
Much like a passionate amateur musician, after a long day at the office, Buddy often enjoys spending his evenings playing the piano and singing.
Read more: Delirious dog sings virtuosic vocal solo in a piano room
In this clip, Buddy is seen providing a right-handpaw accompaniment of the sort of cluster chords that would make Eric Whitacre proud, while his vocals soar over the top in an improvised descant line.
"He is more talented than I will ever be," one user commented.
Another added: "Imagine him doin that while he's home alone. So cute."
One user, rightly so, pointed out: "He is in the middle of his singing lesson. Give him privacy."
Right you are, and as you were, Buddy. Keep up those evening lessons, and we look forward to you working some Giacomo Pooch-ini into your practice sessions.
Calm your dog with our exclusive playlist, Classic FM's Pet Classics, on Global Player.