How to watch Alicia Keys and John Legend's duelling piano battle to celebrate Juneteenth
18 June 2020, 17:39 | Updated: 19 June 2020, 11:48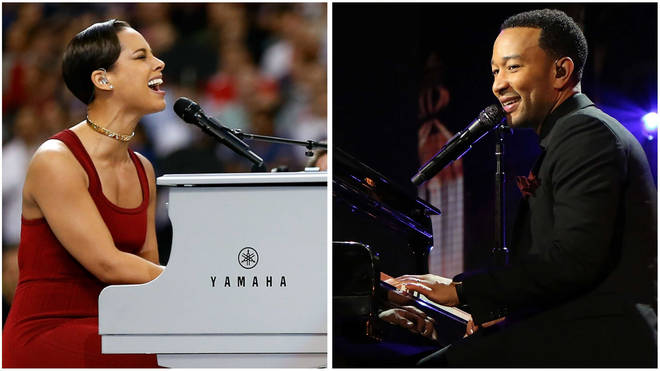 Two legendary singer-songwriter-pianists are duelling in a piano battle, in celebration of Freedom Day. It's Keys on keys, and Legend... also on keys.
Tomorrow night (19 June) at 8pm, a feverish virtual audience will enjoy an epic piano showdown between Alicia Keys and John Legend, from their sofas.
The two stars are taking on the musical battle to mark this year's Juneteenth – or Freedom Day – in the US.
It's a significant event in the country's calendar; slavery ended in Texas on 19 June 1865, sparking widespread celebrations and church community gatherings.
Unlike your average competition, which ends in victory for the best performer, neither Keys nor Legend will be crowned the winner in tomorrow's friendly showdown, the details of which were revealed in a post via Instagram (see below).
Read more: Adorable video of John Legend playing piano with son Miles >
Instead, music lovers will be left to debate over who they feel deserves the ultimate piano champion title.
Grammy-winner Keys is a classically trained pianist and first rose to fame with the soulful No. 1 hit, 'If I Ain't Got You'. Earlier this year, she gave a special shoutout to the late great composer, Beethoven, during her performance at the 62nd Grammy Awards, for his 250th anniversary ("'Cos music changes the world, just like Beethoven said, old dude in a wig but I still give him some cred").
Read more: Alicia Keys shouts-out to Beethoven in her Grammys piano medley >
Legend is also a skilled pianist and multi-award-winner, and co-wrote and performed the tune 'Start a Fire' for the soundtrack of the 2016 musical film, La La Land.
How to watch Keys and Legend's piano battle
Since the online battle series was launched by Verzuz on 11 April, more than 1.6 million followers have been tuning in to watch.
Follow Alicia Keys and John Legend's piano battle on Verzuz' Instagram channel on Friday (18 June) at 8pm.