A flautist serenaded two Bach-loving dolphins, and it went swimmingly
20 July 2020, 12:15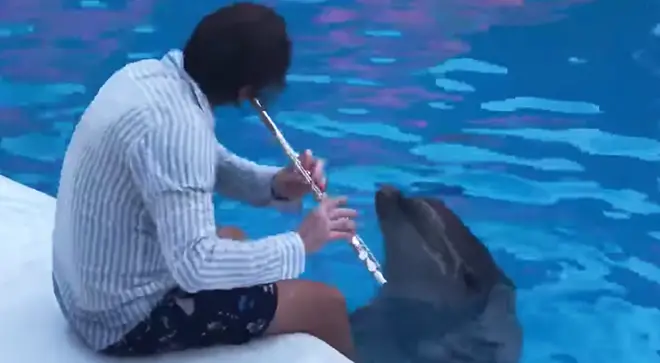 Just a musician, his flute and some dolphins to brighten your day.
As humans, we have evolved to enjoy beautiful music.
And it seems a more aquatic audience could also have the same tendencies.
Russian flautist Maxim Rubtsov decided to charm a dolphin with an Allegro take on Bach's Badinerie (watch below), with ornamentation aplenty.
Maxim charms the Dolphin

For your Sunday morning enjoyment, here's a video of my friend Maxim Rubtsov from the Russian National Orchestra charming a dolphin. Maxim has performed as a special guest with the Brubeck Brothers Quartet in the US and in Russia.

Posted by Chris Brubeck on Sunday, 19 July 2020
Read more: Pianist harmonises 'deranged yelling cat', a masterpiece unfolds >
The curious creature floats at the musician's feet, as he serenades his swimming spectator.
Just moments later, another inquisitive dolphin decides to check out the impromptu performance.
It appears to have been a fin-teresting experience for the mammals.
But perhaps next time they'd be more interested in watching a full orca-stra.