Lizzo has boosted beginner flute sales by a third, music store reveals
18 October 2019, 12:03 | Updated: 18 October 2019, 17:30
Actual, wonderful fact: Lizzo's iconic flute-playing has made more young people take up the flute.
Lizzo's infectious energy and messages of self-love have made her something of a cultural icon. But amid the high-energy dance routines and vocal verses known by millions, Lizzo has one steady companion: her musical instrument (that's Sasha Flute, to you).
The hip-hop star has been playing the flute since she was 10 years old, and in pretty much every major performance she gives – from the BET Awards to Glastonbury – she brings out her prized musical possession for an array of trills and chromatic runs.
Lizzo's flute even has its own Instagram account (@SashaBeFluting has over 265,000 fans and counting).
Read more: Lizzo's BET 2019 flute performance is a whole vibe >
The Flute Center of New York is the largest flute specialty store in North America, selling more than 2,500 flutes every year. In an interview with FOX Business, they revealed that thanks to the 'Lizzo effect', beginner flute sales have risen by 30 per cent this year – and they're expecting it to rise further still.
"There's definitely a resurgence and interest in the flute. Flute has become a whole new ballgame because of Lizzo," Linda Chesis, chair of the Manhattan School of Music Woodwinds Department, told FOX Business.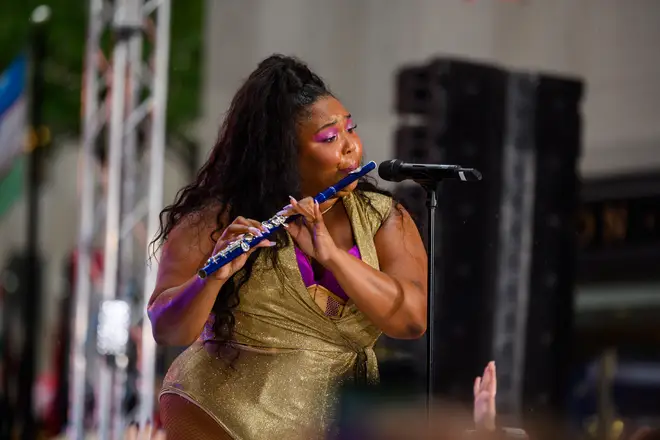 Danielle Sopchak, a New York-based classical flautist and teacher, told the TV channel her students have been asking her to incorporate more pop repertoire into lessons.
"One of my students is learning the melody to 'Truth Hurts,'" Sopchak said. "We make sure to incorporate jazz, but I do notice that more students are interested in learning new and popular music."
A classically trained flautist and self-proclaimed band geek, Lizzo has been outspoken about the stigma around playing a musical instrument at school.
"You get the stigma, like, band geek or band nerd. And people start to drop out and get other extracurriculars. A lot of people who were in band with me in fifth grade, a lot of the dudes became athletes. They played football… I stuck with it," she told CBS' Tracy Smith.
This summer, students from the National Flute Association, the largest flute association in the world, started posting covers of her songs with the hashtag #BringLizzotoNFA in a bid to get the hip-hop star to come to their next convention.
And the 'Lizzo effect' isn't going anywhere, it seems. Lizzo's fans – many acquired during that BET Awards performance – now range from Rihanna to Hilary Clinton. The Guardian even credited her with starting a 'woodwind renaissance'.
"She's [Lizzo] a 21st-century artist in every way; you cannot pigeon hole her in any aspect of what she's doing. She's a true performer, and a genius in her own right," Chesis said.
"She empowers young performers to question how they express themselves through music because it's not in the box anymore."
Want to hear more from us? Sign up to Classic FM's newsletter, Notes!