These are factually the 19 best pieces of flute music EVER written
25 September 2019, 17:26 | Updated: 25 September 2019, 20:41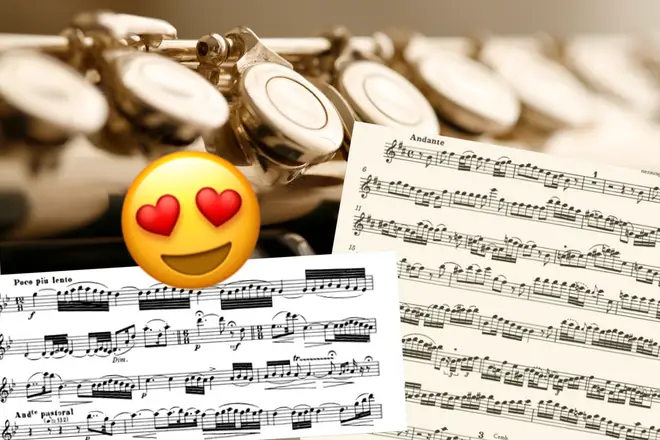 From Debussy's Syrinx to the devilishly difficult Chant de Linos by André Jolivet, here's our ten cents on what the very best works *ever* written for the flute are. No ifs or buts about it.
Ah, humble flute – you're known for being fast and flashy, as much as you are for being soft, beautiful and, at times, beautifully understated. It's about time we celebrate the very best works ever written for you. So, without further ado...
Debussy: Syrinx

*The* definitive work for solo flute, Syrinx holds the rare status of being known outside the flute world and in vaguely mainstream culture.

Interpretations of Debussy's impressionistic three-minute piece range from the rhythmically liberal, to the strict and rigid – wisdom on interpretation is as diverse as the performers who have made the piece their own over the decades – so you'll find one flautist's Syrinx can sound radically different from another's (which as a flautist can be refreshing or infuriating, depending on our mood).

EMMANUEL PAHUD | Claude Debussy, "Syrinx" for solo flute

Jolivet: Chant de Linos

If a flautist says "I'm currently working on Chant de Linos" you know they mean business. That, or they're ambitious to the point of precociousness and have bitten off more than they can chew…

A mainstay of the ABRSM flute Licentiate diploma syllabus – that's the one after the one after Grade 8, for anyone out there wondering – this one-movement work requires incredible dexterity, breath control and buckets of feeling from any flautist (not to mention flutter tonguing, octave leaps and some devilishly difficult fingerwork).

That and a command of high notes. A very strong command of high notes.

André Jolivet: Chant de Linos for Flute & Piano-Claudio Barile, flute - Paula Peluso, piano

Messiaen: Le Merle Noir

Le merle Noir (1952) – 'The Blackbird' – for flute and piano emerged from Messiaen's ongoing endeavours to transcribe birdsong accurately in music – starting with pieces like the 1940 Catalogue d'oiseaux ('Catalogue of Birds') for solo piano.

Another piece that requires impeccable technique and incredible control from flute players, it evokes wonderfully the erratic chortles and frenzied leaps in pitch of a bird that can be heard every day in countryside locales and back gardens.

[2015 GMMFS 대관령국제음악제] Messiaen Le merle noir (The Blackbird)

Read more: Lizzo the hip-hop flautist is bringing classical music to new audiences >

Mozart: Flute Concerto No. 2 in D major

A favourite in the Mozart concerto repertoire, the Flute Concerto No. 2 in D major is as fun for a flautist as it is fiddly. The chirpy opening melody is a typically catchy Mozart ditty, and it sets the mood for a concerto that showcases the instrument as well as any.

The steady second movement is incredibly elegant and beautiful, and a treat for any player – especially when the time comes to translate what you've rehearsed into a performance with full orchestra.

Flute Concerto in D Major No.2 K.314 W.A.Mozart

Poulenc: Sonata for Flute and Piano

Poulenc's Flute Sonata is iconic. All three movements have sublime late-Romantic French melodies – tinged with interesting twists and turns, and backed by colourful harmonies – and the second movement especially is one of the most achingly sad and beautiful of all tunes in the flute repertoire.

Honestly ­– we can't recommend enough taking five minutes out of your day to sit down, relax and take in that sublime 'Cantilena'.

EMMANUEL PAHUD- Poulenc Flute Sonata- 2 mov.

Martinů: Sonata for Flute and Piano

A lot of established flute repertoire comes from French composers (as this list will attest – do read on), so the Martinů feels like a rare and exotic treat.

Another diploma piece – this one is a notch up and found on the ABRSM Fellowship syllabus, which is the one after the one after the one after Grade 8 (for those wondering) – it was composed in 1945 by the Czech composer Bohuslav Martinů, probably best known among opera buffs for large-scale works like The Greek Passion, and contains lovely melodies and fun rhythmic exchanges between the flute and piano.

Reinecke: Concerto

The turn-of-the-century Reinecke concerto is epic, and lets the usually-restrained flautist feel more like a virtuosic violinist or pianist with its incredible dramatic range and lyrical melodies.

It was last concerto the German composer Carl Reinecke wrote, and has been applauded for being as Brahmsian as flute players get the chance to be by Gramophone writer Geoffrey Norris. Norris called it a "substantial concerto" that "in its tone makes amends for the fact that Brahms never wrote a concerto for flute".

Amen to that.

Read more: Lizzo's flute has its own Instagram >

Chaminade: Concertino

Cécile Chaminade's Concertino for Flute and Orchestra is another favourite in the French Romantic flute repertoire.

Written in 1902, the one-movement work is gorgeously lyrical and satisfying for performer and listener alike.

Out of the Paris Conservatoire school of composition, Chaminade (winner of the prestigious Légion d'Honneur) was praised by fellow composer Ambroise Thomas for being "not a woman who composes, but a composer who is a woman." Well, fancy that!

Boston Philharmonic Youth Orchestra: Chaminade - Concertino for Flute (feat. Hayley Miller, flute)

Bach: Sonata in B Minor

We're trying to resist saying "just anything by Bach" and including all his flute sonatas here (it's tough).

Honestly, we're so lucky Bach deigned to write anything for the lowly flute as a solo instrument, so the fact he did so prolifically will never stop humbling us.

The Bach B minor Flute Sonata is the most profound of all of them for sheer length, depth of feeling and unforgettable melodies (it takes the finest flautists in the field to pull off that epic first movement).

But we also can't not mention the sublime E minor: a flute sonata with just the most tear-jerking melodies and beautiful harmonies in existence.

Debussy: Prélude à l'après-midi d'un faune

A major orchestral work rather than a self-contained solo flute piece, Prélude à l'après-midi d'un faune ('Prelude to the Afternoon of a Faun') simply cannot be left off any list containing the greatest works for flute.

Let us set the scene: a concert hall pregnant with expectation; silence; the merest hint of an in-breath accompanying the conductor's raised baton and – then – the smoothest entry of a silky flute melody ringing through the air before it's sprinkled with impressionistic orchestral colour after four bars.

There's no atmosphere quite like it in classical music – and it's a rare time for the flute to really shine in a piece of late 19th-century orchestral music.

Debussy Prélude à l'après-midi d'un faune - Leonard Bernstein

Taffanel: Andante Pastoral and Scherzettino

French flautist and composer, Paul Taffanel's Andante Pastoral and Scherzettino for flute and piano is simply stunning.

After dark piano chords set the scene, the flute part comes in with a dramatic flourish and develops into a melody so mournful it evokes the act of crying.

But never fear – like all French Romantic repertoire, it does contain glimmers of hope, and the Scherzettino second-half of the piece is a fun cat-and-mouse chase to the end that leaves one feeling quite elated.

Phew – all the feels in under seven minutes with this one.

Ibert: Flute Concerto

For flautists, "the Ibert Concerto" is a three-word combination that means something very specific (but ironically quite difficult to put into words).

Playing French composer, Jacques Ibert's 1932 concerto essentially says "I've arrived – I've made it to this part of the flute-learning process, and my readiness to take this piece on takes me from student of flute to real flautist". Or something like that.

What we're saying is – this is a big work, not for the faint-hearted, and anyone able to play it should be darn proud of their fluting achievements.

EMMANUEL PAHUD - IBERT FLUTE CONCERTO

Hindemith: Sonata for Flute and Piano

Okay, enough late-Romantic French stuff for the time being.

Germany's Paul Hindemith composed a delightful flute sonata in 1937 and it's a rare gem in the repertoire.

The melodies undulate around and take us to interesting places, making the instrument do things it's not always heard doing – it's much less about flutey flourishes than it is about impactful note attacks and stark contrasts. Eesh.

Copland: Duo for Flute and Piano

American composer Aaron Copland wrote only one work for solo flute and even then it was technically a duo – with the piano being of equal importance to the flautist (we'll allow it).

The 1971 Duo opens with solo flute interval leaps that seem to evoke the sparseness and largeness of the expansive landscapes America is known for.

Aaron Copland Duo for Flute and Piano - Jasmine Choi and Giorgos Fragos 코플랜드 듀오 플루트 피아노 최나경 교르고스프라고스

Karg-Elert: Sonata Appassionata

This unaccompanied flute sonata is all flash and bravado – perfect for slotting into a recital to refocus the audience's attention.

You never know quite where the melody is going to go as it shows off pretty much everything – from glistening semiquaver runs to exaggerated octave leaps – a flute is capable of. There's not a dull moment.

And Sigfrid Karg-Elert? A late-Romantic German composer, known more for organ and harmonium works than woodwind studies like this, so we're darn lucky to have it.

Taktakishvili: Sonata for Flute and Piano

The flute sonata from Georgian composer Otar Taktakishvili is widely loved among members of the flute community – and for good reason.

The first movement is dominated by a fabulous melody that anyone could be forgiven for mistaking for Rodgers & Hammerstein's 'The Hills Are Alive' from The Sound of Music (seriously – give it a listen).

And the slow second movement is one of the most stunning and heart-breaking in the entire catalogue of tunes available to flautists. If this list could only have one piece in it, this might well have been it.

Read more: 15 most famous tunes in classical music >

Doppler: Hungarian Pastoral Fantasy

Polish composer Albert Franz Doppler was a flute virtuoso himself, and accordingly wrote solo pieces to show off with.

The Hungarian Pastoral Fantasy is scored for flute and either accompanying piano or accompanying orchestra, and has several movements that showcase Hungarian folk dance styles. Lots of fun to play; lots of fun to listen to.

Dutilleux: Sonatine

Because we couldn't go too long without speaking about a late-Romantic French flute piece again – seriously, they're just GOOD – here's another, this time from Henri Dutilleux.

Dutilleux was a 20th-century French composer who followed in the footsteps of the likes of Ravel, Debussy and Messiaen, and his flute sonatine is in three parts. The piece winds around mysterious, undulating pastoral melodies, shared out fairly between flute and piano. Nice.

Dutilleux Sonatine - Sooyun Kim, flute and Juho Pohjonen, piano

Muczynski: Sonata for Flute and Piano

Grateful is our word for the fact Polish-American composer Muczynski turned his pen to a flute sonata.

Muczynski's style is inflected with syncopation and jazz, and this piece is all about jagged rhythms, contrasts and restraint in the face of chaos (or at least that's how it feels when you're playing it).

It's an absolute masterclass in taking the dexterity of the flute and distilling it in a controlled-but-energetic set of movements that demand utmost concentration from listener and performer alike. There's nothing else quite like it for flute.
Further listening? Let us suggest Prokofiev's mammoth Sonata for Flute, the Khachaturian (originally Violin) Sonata transcribed for flute, the other Mozart Flute Concerto – and everything for flute by Bach. Couldn't resist.