Gladys Knight just sang The Star-Spangled Banner at the Super Bowl – and it was sensational
4 February 2019, 12:30 | Updated: 4 February 2019, 12:45
The Empress of Soul moved American football fans with her flawless performance of The Star-Spangled Banner
Last night, American football fans gathered at Atlanta's Mercedes-Benz Stadium for Super Bowl LIII – and hit singer Gladys Knight was there to help them kick off the game.
As the New England Patriots and the Los Angeles Rams prepared to battle it out on the pitch, award-winning soul singer Gladys warmed hearts with her powerful rendition of the US National Anthem.
Accompanied by a moving musical arrangement and a team of instrumentalists, her flawless performance hit all the top notes and impressed audiences around the globe.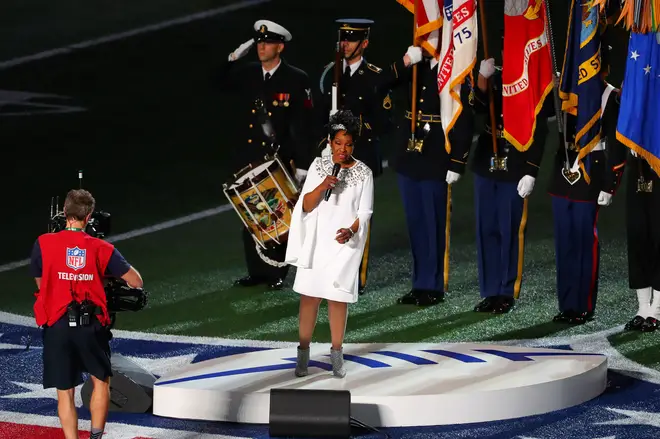 The 'Empress of Soul' opened the game between the two rival teams, showing off all the richness of her contralto voice – and perhaps the smokiest opening notes of any Super Bowl singer.
Her interpretation was unmistakably soulful, with perfectly placed tempo and exquisite appoggiaturas, leaning the note above the usual line.
Sometimes she pushes the tempo, other times she sits right back on it.
And just listen to what she does with those last two lines. What a legend.
Who wrote the US National Anthem?
Composed by British composer John Stafford Smith in the 1700s, The Star-Spangled Banner is now one of America's favourite tunes.
The song's lyrics were originally inspired by Defence of Fort M'Henry, a touching poem written by Francis Scott Key in 1814.
Just like other national anthems, this popular track is mostly sung at sporting events and other public gatherings – and mezzo-soprano Renée Fleming, as well as pop icons Whitney Houston and Lady Gaga, have performed it at the Super Bowl in previous years.