What is a Baritenor? Meet the singer with an incredible three-octave operatic range
22 May 2023, 18:50 | Updated: 18 September 2023, 11:52
What is a Baritenor? Michael Spyres and his three-octave operatic range | Classic FM
Michael Spyres is a baritenor with an incredible range that spans the entire range of male operatic singers. Meet the opera star whose voice everyone is talking about...
Every so often, someone comes along to upend all those things we thought we knew and assumed were fact. And what's just what one incredible singer, Michael Spyres, is doing in the opera world.
There are the voice types and categories that we've all heard of: sopranos, mezzos, tenors, baritones and basses. But have you heard of a Baritenor?
Spyres, an American opera star born in Missouri, is capable of singing in range, tone and style of both baritone and tenor voices. A total two-for-the price-of-one, he is truly world-class in either, and both.
We met the baritenor backstage at London's Royal Albert Hall, just before he made his Classic FM Live debut on that legendary stage. In that performance he sang a baritone aria from Rossini's The Barber of Seville as well as tenor moments from Puccini and Verdi operas.
Spyres gave us the low-down (and high-ups) of his unique voice type, and demonstrated his mind-blowing three-octave range, from a bass C, to a high tenor C. Watch in the video above.
Read more: An epic 'Nessun Dorma' that leaves a Royal Albert Hall audience in awe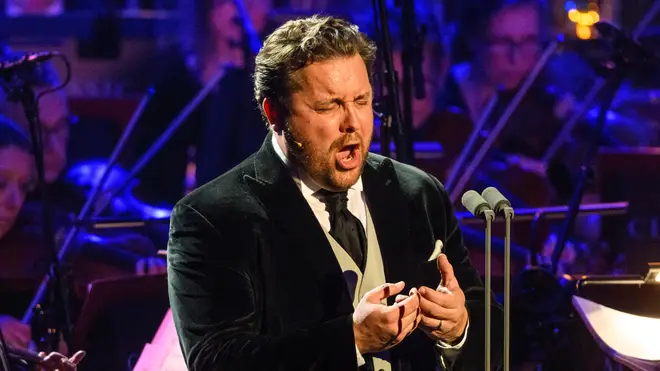 Spyres explained that in his teens and 20s, he had a natural baritone voice, but a singing teacher encouraged him to develop his tenor register. Though it was hard work, Spyres said, "I'm pretty persistent".
"Finally in my early 30s," he added, "That's when the tenor really started to blossom."
Having developed the technique and knowledge of both voice types, Spyres was able to find his new vocal identity.
But the American star is not the first 'baritenor' – in fact, the voice type has a long history. It was much more common in the Baroque era, and later found its own in the 1800s, in the mingling of voice and grand drama in the works of Berlioz and Rossini. But by the 19th century, the singing style was largely lost.
Interestingly, 21st-century Canadian singer Josh Groban is generally recognised as a baritenor. He once described himself as "a baritone with some high notes up my sleeve".
Spyres' vocal acrobatics have been the subject of much fascination and fandom online.
A recent comment on Reddit's opera forum summed it up: "Just – how! It's not fair on the rest of us that he can do this. Who else before the public today has a technique to match Spyres?"
But as with all things, there's the technical side, and then there's the emotional side and the true impact music has on an audience. Here, Spyres is very special too. Just watch the power, emotion and connection in his performance of Puccini's most famous aria, recorded at Classic FM Live:
An epic 'Nessun dorma' from opera star Michael Spyres at Classic FM Live | Classic FM
Michael's latest album, Contratenor, showcases his incredible range and passion for a too-long neglected voice type.
The word 'baritenor' may be a linguistic portmanteau but as you can hear, Spyres has the opera portamento to compliment it. Here's to many more high notes (and some of the deep ones), from this remarkable singer of our time.