Andrea Bocelli and Dua Lipa release new duet 'If Only' – listen
26 October 2018, 17:13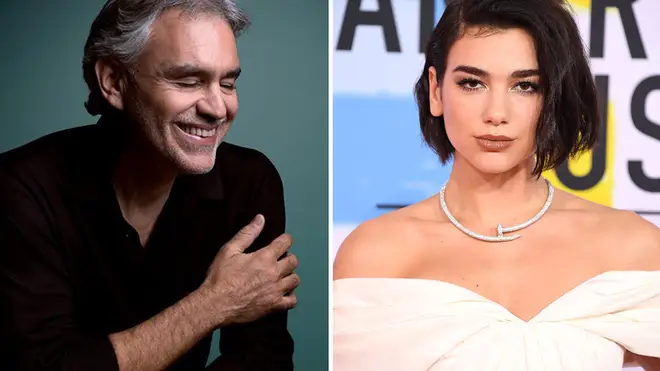 The new duet features on Andrea Bocelli's new album 'Sì', released today (26 October).
Andrea Bocelli has joined forces with pop singer Dua Lipa on a new duet, 'If Only'.
The ballad features on Andrea Bocelli's new album Sì, which also includes collaborations with Ed Sheeran and Josh Groban.
Dua Lipa, who is known for singing 'New Rules' and 'One Kiss', released a clip of the song on Instagram earlier today, with the caption: "Our beautiful song is out in the world. An honour to work with @andreabocelliofficial".
'If Only' was originally recorded as a solo track for Bocelli. It was released as the debut single from Sì, accompanied by a music video filmed in Italy with the singer's wife and children.
Who are Bocelli's wife and children, and where do they live? >
Although 'If Only' is an original track, there are a couple of moments in the song which hint at the melody of 'The Prayer' (1998), Bocelli's duet with Céline Dion.
Andrea Bocelli - If Only (Audio) ft. Dua Lipa
Sì is Andrea Bocelli's first album of all-new material in 14 years. The album, which celebrates "love, family, faith and hope", also contains duets with soprano Aida Garifullina and Andrea's son Matteo Bocelli.
Their single 'Fall On Me' will be the end credits song of the upcoming Disney movie The Nutcracker and The Four Realms (due on 2 November) starring Keira Knightley, Mackenzie Foy, Helen Mirren and Morgan Freeman.
Andrea Bocelli – Sì:
1. Ali di Libertà
2. Amo Soltanto Te (feat. Ed Sheeran)
3. Un'Anima
4. If Only (feat. Dua Lipa)
5. Gloria The Gift Of Life
6. Fall On Me (feat. Matteo Bocelli)
7. We Will Meet Once Again (feat. Josh Groban)
8. I Am Here
9. Vertigo (with Raphael Gualazzi at the piano)
10. Vivo
11. Dormi Dormi
12. Ave Maria Pietas (feat. Aida Garifullina)
13. Meditation
14. Miele Impuro
15. Sono Qui (acoustic version)
16. Ali di libertà (acoustic version)
Listen to 'Fall On Me' on Spotify and on Andrea Bocelli's website.