Andrea Bocelli and Sir Bryn Terfel perform emotional 'You'll Never Walk Alone' at Coronation Concert
7 May 2023, 21:57 | Updated: 8 May 2023, 14:12
Bryn Terfel and Andrea Bocelli sing emotional 'You'll Never Walk Alone' at Coronation Concert
Two operatic legends joined together on the East Lawn of Windsor Castle to sing for the newly crowned King at Charles III's Coronation Concert.
Fresh from his performance at the coronation of King Charles III on Saturday 6 May, Sir Bryn Terfel joined legendary Italian tenor Andrea Bocelli in a heartfelt rendition of 'You'll Never Walk Alone' tonight at Windsor Castle.
Singing together at the Coronation Concert, a star-studded musical event showcasing some of the world's greatest performers, the operatic legends were joined by a 70-piece orchestra and house band made up of the Massed Bands of the Household Division and the Countess of Wessex's String Orchestra.
Swelling with emotion, the two musicians were joined by a choir of backing singers as the audience of 20,000 waved union jacks joining in with an iconic melody which holds much patriotic symbolism (watch a clip above).
Read more: Coronation Concert: who sang and performed at the Windsor Castle concert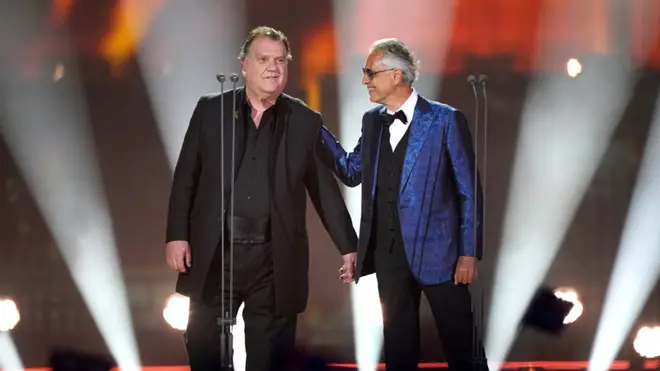 The concert is a particularly historic event as no other coronation has had an official coronation concert following the almost 1,000-year-old ceremony.
On being asked to sing at the event, Sir Terfel said: "Having sung at numerous events that were connected to the patronages King Charles held as the Prince of Wales, I am delighted to be performing at the celebratory concert in Windsor.
"Another opportunity for me to sing with my great friend and colleague, the wonderful Italian tenor, Maestro Andrea Bocelli."
The Welsh baritone also performed at the King's Coronation ceremony at Westminster Abbey on 6 May 2023. He sang the 'Kyrie Eleison' by Paul Mealor, which was the first time the Welsh language had ever been sung at a coronation.
Read more: Two of Britain's greatest singers were in thunderous voice at the coronation
Bryn Terfel sings at Westminster Abbey coronation
Acclaimed tenor Bocelli said on being asked to perform for the King's Coronation Concert: "I have had the great honour of singing for Her Majesty Queen Elizabeth II on several occasions. It is now another great honour to be asked to perform at the Coronation Concert of King Charles III.
"My joy and excitement are multiplied as I have the chance to duet with my dear friend and superb baritone, Sir Bryn Terfel, performing [this] iconic song of love and collective solidarity."
And a performance brimmed with love and collective solidarity it was. Bravo to both!
Join us on Monday 8 May, 9am-9pm for Classic FM's Great British Classics – the Top 100 best pieces of British classical music, voted for by you.