A WWI soldier's lost music is now being performed – and it's hauntingly beautiful
23 January 2019, 11:19 | Updated: 23 January 2019, 17:32
"Reading through the music was like hearing whispers from the grave."
A book of music composed by a soldier in a World War One trench was thought to be lost forever, until a chance discovery on eBay led singer Patricia Hammond to his music.
The chance discovery
Hammond, who is particularly interested in music from the First World War, bought a songbook published in 1917 through eBay, from a small bookshop in Paderborn, North Rhine Westphalia. Inside was an entire chapter of 'Weltkrieglieder', or 'World War Songs'.
It was here that she discovered the song 'Bald Allzubalde', written by the German soldier Ernst Brockmann during the war.
Alongside her project collaborator Matt Redman who arranged the song, they went ahead and began performing the never-before heard music.
This violin belonged to a soldier who fought at the Somme >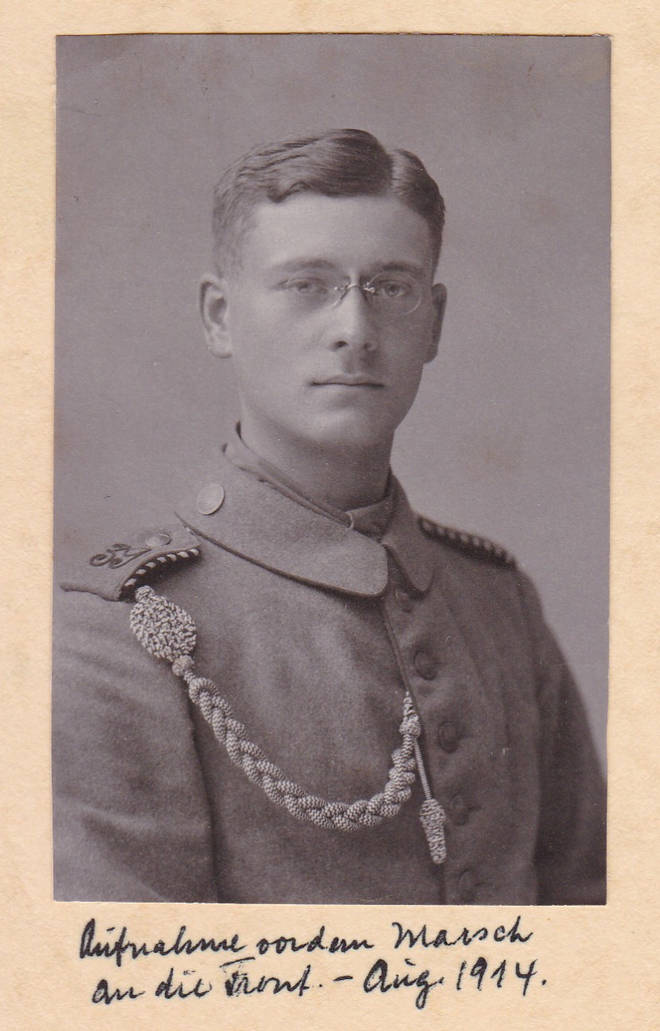 Ernst Brockmann
With a little research, Patricia discovered the music had been written by Brockmann in a trench in Verdun, France. He was killed in 1916, and his music published a year later.
After further research, Patricia and Matt (featured in the video above) managed to track down the unmarked grave where Brockmann was buried.
"We contacted the Volksbund Deutsche Kriegsgraberfursorge, the German War Graves Commission," said Patricia. "We sent our CD, and a wonderful fellow named Arne Schrader got to work, searching records and regiments and documents. After an exhumation, they identified it, and we went over there for the centenary."
Ernst's name could now be put on his headstone. Patricia and Matt also performed the composer's music at his grave, in a poignant ceremony.
The lyrics
Alone in the forest there is probably a little red flower blooming.
Soon, all too soon I'll be dead. Soon, all too soon. 
Flying somewhere is a little piece of lead, that will take away all my cares.
To me it is all the same, whether today or tomorrow. 
In a distant valley three spades are digging
a stone-cold grave for a soldier. 
Over there in the twilight lies a small town
in which a girl is weeping, alone. 
There may be a blossom of a little red flower that stands alone in the forest;
soon, yes soon I will be dead. Soon, all too soon.
Performing the music
Patricia noted, "Reading through the music was like hearing whispers from the grave. The songs are gorgeous, in the art Lieder style of Schumann, Wolf, Brahms."
Having sourced a number of period instruments – a guitar from 1911, an accordion and a clarinet – Patricia and Matt plan to perform Brockmann's works over the UK and Europe.
Since the pair discovered the book, a descendant of Brockmann got in touch with an archive of the composer's music, all typed and transcribed by his devoted nephew. Patricia and Matt plan to perform these new pieces and share Brockmann's music across the UK.