Musician who loves danger invents a flame-throwing trombone
7 May 2020, 12:27 | Updated: 7 May 2020, 12:33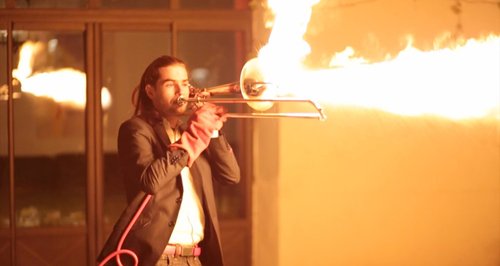 Con fuoco, trombones!
In a blatant health and safety sidestep, trombonist Valentin Guérin has done what we've all dreamed would one day happen: turned his trombone into a flamethrower.
He's given it an excellent name, too.
It's called the Pyro-Trombone, and it is quite a sight to behold.
Safety is important, though.
As stated on Guérin's website: "The Pyro-Trombone was developed with the help of pyrotechnicians, it meets the standards for outdoor performances."
Here's an entire seven-minute piece – Fantastic Polka by Arthur Pryor – dedicated to this majestic creation.
We would suggest a flame-throwing flute, but we think someone else has already patented that...