Adorable animated instruments play together in kids classical music show
29 January 2020, 15:50 | Updated: 29 January 2020, 17:00
Mozart - Alla Turca - Melody Street
A beautifully animated, bitesize video to teach children all about the wonderful musical relationships in an orchestra. All together now...
Instruments of the orchestra join together in this sweet animation aimed at young, budding classical music enthusiasts.
In the two-minute video, made for the online kids' show Melody Street, Timmy Trumpet and Vladimir Violin join an unnamed percussionist, French horn player and a flautist to play Mozart's famous piano sonata, 'Rondo alla Turca'.
Pianist Ethan Bortnick, who hosts other videos for Melody Street, leads the ensemble on the piano. And after a bit of digging, it turns out Ethan is *quite* the prodigy.
In 2010, aged nine, Ethan was named in the Guinness World Records as the youngest solo musician to headline his own concert tour. And a year later, aged 10, he became the youngest headliner at the Las Vegas Hilton hotel.
Read more: Woodland creatures sing a Bellini opera in beautiful short film >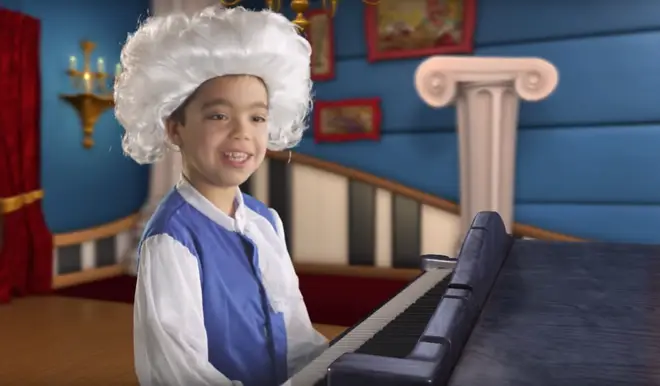 It's always hard to hit the right note with kids' shows, and this one definitely isn't without its faults (for starters, why are the only two female characters booted off stage…?).
But all in all, it's a lovely way of introducing children to Mozart's music, and to those unique musical relationships between instruments of the orchestra.
Go to Melody Street's YouTube channel for more bitesize classical music videos.