Unheard John Williams music has been released for the first time – listen here
28 June 2019, 16:12 | Updated: 18 June 2021, 16:53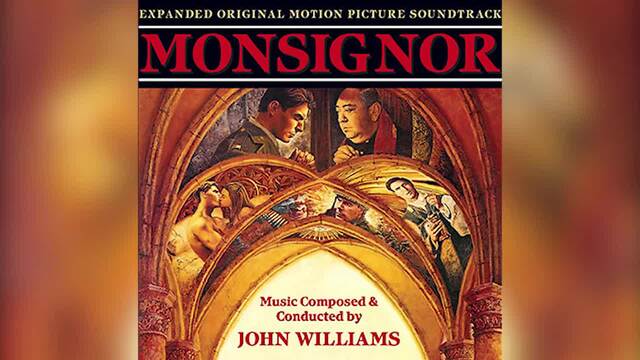 Listen to John Williams' 'Theme' from Monsignor
He's the brains behind the Star Wars, Harry Potter and Jurassic Park scores – and now spectacular new John Williams sequences have been unearthed.
A cinematic collection of tracks written and conducted by legendary film composer John Williams have just been remastered – and they include two new cues and several previously unreleased sequences.
Recorded at Abbey Road with the prestigious London Symphony Orchestra, the music was penned by Williams for Christopher Reeve's 1982 movie, Monsignor, which is based on Jack-Alain Léger's novel of the same name.
It tells the story of John Flaherty, an ambitious priest who is thrilled to have received a post at the Vatican, but soon discovers the church is experiencing financial difficulty.
In a bid to save the church from collapse, he teams up with the local mafia to sell cigarettes on the black market – but the task comes at a cost.
Now, thanks to producer Michael Matessino who assembled the soundtrack album, fans of John Williams will be able to hear the remastered score for the film – which includes the beautifully expressive 'Theme from Monsignor', 'End Credits' and 'The Book Shop' – as well as previously unheard cues and sequences.
In the composer's distinct style, Williams' music is dramatic and moving in equal measure, particularly on 'Seeing Rome', 'Gloria' – complete with a choir and organ accompaniment – and 'Meeting in the Rain'.
The album also features the late great trumpeter and celebrated soloist Maurice Murphy, who began his career performing on the first Star Wars soundtrack in 1977, as well as lead violinist Michael Davis and Robert Noble on the piano and celesta.
Although Williams wrote the music for Monsignor shortly after Raiders of the Lost Ark and before Star Wars: Return of the Jedi, two of the cues have only just come to light, so this is surely an exciting moment for lovers of the big screen.
With a total of 25 tracks and a running time of just over 77 minutes, the collection is being released as a CD by Intrada Records and is available to buy online.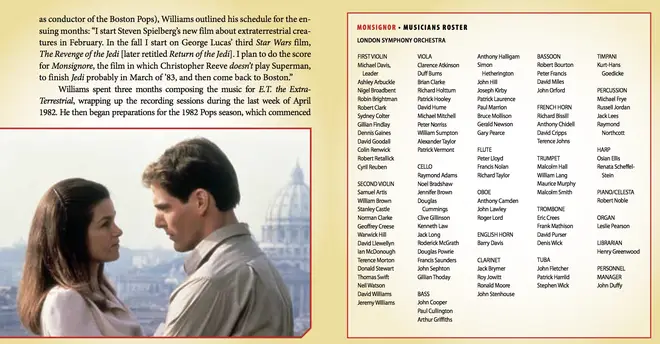 Monsignor – full track list
1. Theme From Monsignor (3:28)
2. Reunion In Italy (1:36)
3. Forgotten Vows (4:13)
4. The Meeting In Sicily (3:55)
5. Audience With The Holy Father (3:44)
6. Gloria (5:16)
7. Monsignor (2:14)
8. Appolini's Decision (3:15)
9. Santoni's Compassion (5:03)
10. At The Forum (5:10)
11. Theme From Monsignor (3:27)
12. Monsignor (Main Title) (2:14)
13. Seeing Rome (1:41)
14. The Vatican (0:47)
15. You're My Mystery (1:35)
16. Reunion In Italy (1:35)
17. Meeting In The Rain (1:25)
18. Forgotten Vows (Film Version) (2:48)
19. Gloria (5:17)
20. Love Theme (2:33)
21. The Book Shop (1:47)
22. Santoni's Compassion (5:03)
23. Audience With The Holy Father (3:45)
24. Appolini's Mistake (1:56)
25. End Title (2:55)