Michael Giacchino's music for Rogue One has some fantastic nods to John Williams
13 December 2016, 09:42 | Updated: 13 December 2016, 09:49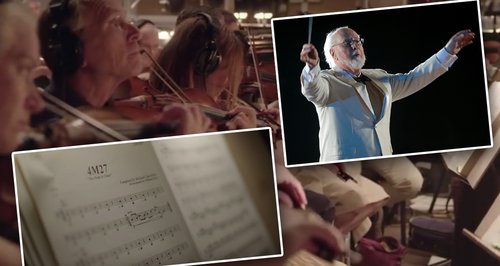 Footage of recording sessions for the Rogue One: A Star Wars Story soundtrack has been released, giving us the first listen to Michael Giacchino's music.
Giacchino is channeling John Williams, and we like it
In a small highlights reel, we can see what appears to be a studio orchestra playing some cues from the first Star Wars movie soundtrack NOT to be composed by John Williams.

Perhaps unsurprisingly, there are very clear nods to Williams' themes from previous Star Wars soundtracks, most notably the triplet-y chug of the Imperial March and the cascading brass motifs.

Have a listen here:
It's not the first time Giacchino has incorporated John Williams' themes into his soundtracks, having taken on the music for Jurassic World last year.
Just look at Giacchino, shameless in tank top and cap combo while chatting with director Gareth Edwards, probably about Banthas and whether Greedo shot first:
Here's everything we know about the soundtrack
The new trailer is here... and the music is a bit 'hmm...'
So this happens with trailers. We've seen it before, countless times. Even when there aren't reshoots taking place (see below), the nature of film production means that soundtracks are often left until late in the running order. But with The Force Awakens, the trailer music was fantastic - neatly using existing Williams themes and extending them to suggest something new.
However, even though the brand-new trailer for Rogue One looks lovely, the music has clearly been pasted on as a bit of an afterthought. The most inventive thing we get is a ghost of Williams' Force Theme as a soprano solo, but the rest of it is basically Hans Zimmer-esque string ostinati.
It's probably safe to assume that Michael Giacchino's score is yet to take full shape and these themes are mere stand-ins, but still - this is a mite disappointing in musical terms:
Reshoots have knocked everything off course - Giacchino replaces Desplat
So we only have the word of the Hollywood press to go on for this, but it seems like the much-discussed reshoots of the first ever non-episodic Star Wars film have thrown a spanner in the works beyond the filming schedule. Alexandre Desplat was due to write the film's score (see our enthusiastic analyses below), but because of the late finishing of the final product, scheduling conflicts mean that Desplat cannot commit.
Who is worthy to replace him and, indeed, to be the first non-John Williams composer to tackle an official Star Wars film? It's a friend and longtime collaborator of producer J.J. Abrams, Michael Giacchino. This is very much a safe pair of hands and, if anything, a predicatable choice - Giacchino has a formidable CV of scores under his belt, and he was responsible for reinventing the sound of the rebooted Star Trek franchise (another pet project of J.J. Abrams.
What happened to Alexandre Desplat?
After confirming that he was going to be composing the first ever non-Williams Star Wars movie soundtrack, French composer Alexandre Desplat pulled out due to scheduling commitments. This could be down to the much-discussed reshoots that Rogue One underwent, but whatever the reason, stalwart Michael Giacchino was on hand to step in and write the score in a matter of weeks.