Canadian orchestra shuts after 'fat-shaming' email
27 August 2017, 18:50 | Updated: 29 August 2017, 17:38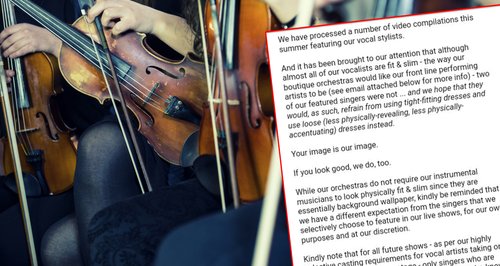 The Sheraton Cadwell Orchestras in Toronto came under fire after an email came to light in which they asked singers who weren't 'fit and slim' to wear loose clothing
The Sheraton Cadwell is an ensemble that provides entertainment for events and is made up of volunteers. The management has now resigned and their website has been taken down.
Victoria Leone, a singer who had performed with the ensemble two weeks earlier, received an email last week saying:
"Although almost all of our vocalists are fit and slim - the way our boutique orchestra would like our front line performing artists to be… two of our featured singers were not."
"We hope that they would, as such, refrain from using tight-fitting dresses and use loose (less physically-revealing, less physically-accentuating) dresses instead."
"Your image is our image. If you look good, we do, too."
An excerpt from the email
(Photo: Sydney Dunitz/Facebook)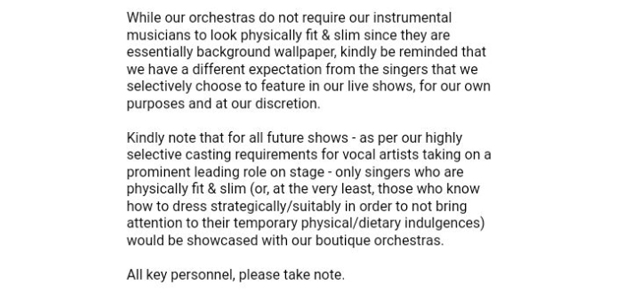 Victoria told the Canadian Broadcasting Corporation that she felt the email was a personal attack and that she was bullied as a child for being "curvy". (listen from 10.25)
When she replied to the orchestra they sent an email thanking her for her time and highlighting parts of the original email in red – suggesting she reread them.
After Victoria decided to go public with the email the orchestra got in touch with her to say the ensemble would be shutting down:
"We sincerely apologise for any embarrassment/harassment that you may experience from media representatives or other individuals/parties as a result of misconstrued/malicious allegations and extremely negative/destructive/evil intent."
Victoria wasn't the only singer to go public with the email and her response. Another singer called Sydney Dunitz posted a screenshot of the original email and her reponse on Facebook.
She wrote: "Many struggle with weight, many suffer eating disorders, many are in the process of getting fit, many just plain enjoy their bodies the way they are. That says nothing about their musical ability."
Following the news of the orchestra's closure, Victoria told The Toronto Star, "Shutting down the organization was never the intent from any of the girls who've spoken out on the body-shaming email.
"I think it is important for people in the community to understand that appearance does not define our worth or talent."