The nation's favourite piece of wedding music has been revealed
13 May 2018, 16:55 | Updated: 14 May 2018, 12:57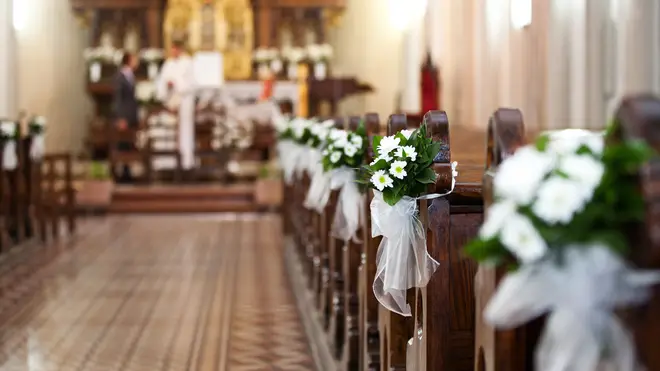 You've been voting in your thousands, and we can now reveal which piece of wedding music is the most popular.
A few weeks ago, we asked you to vote for your favourite piece of wedding music so we could find out which matrimonial melody really is the nation's favourite.
The results are in, and the winning piece has been revealed as Widor's 'Toccata', from his Symphony No.5 for Organ.
Classic FM's Charlotte Hawkins revealed the top 25 on her Sunday afternoon show, culminating with the organ classic.
Love wedding music? Here's our new double album, The Wedding Collection!
Written by the French composer Charles-Marie Widor almost 140 years ago, the work has become one of the most requested pieces of classical music at wedding ceremonies. It is most often used as recessional music, as the couple leave the church or venue. It was played at the wedding of the Duke of Cambridge and Catherine Middleton at Westminster Abbey on 29th April 2011 and a further eight Royal Weddings in the past 60 years.
Here's the top 25 in full:
1. Widor - 'Toccata' from Symphony for Organ No.5
2. Handel - Arrival of The Queen of Sheba
3. Pachelbel - Canon in D
4. Mendelssohn - Wedding March From 'A Midsummer Night's Dream'
5. Schubert - Ave Maria
6. Clarke - Trumpet Voluntary
7. Wagner - Bridal Chorus From 'Lohengrin'
8. Grieg - Wedding Day at Troldhaugen
9. Bach - Jesu, Joy of Man's Desiring
10. Stainer - Love Divine, All Loves Excelling
11. Lloyd Webber - Pie Jesu
12. Handel - Hallelujah Chorus
13. Bach / Gounod - Ave Maria
14. Mascagni - Intermezzo From 'Cavalleria Rusticana'
15. Holst - I Vow to Thee My Country
16. Parry - I Was Glad
17. Bach - 'Air' from Orchestral Suite No.3
18. Parry - Jerusalem
19. Stanley - Trumpet Voluntary Op. 6 No.5
20. Elgar - Salut d'amour
21. Handel - 'La Rejouissance' From Music for the Royal Fireworks
22. Purcell - Trumpet Tune
23. Mozart - 'Alleluia' From Exsultate Jubilate
24. Mozart - Laudate Dominum
25. Franck - Panis Angelicus
George Frideric Handel's 'Arrival of the Queen of Sheba', from the oratorio 'Solomon', made it to no.2 in the chart. First performed in London in 1749 and now widely used as processional music at weddings, it was also performed at the opening ceremony of the London 2012 Olympic Games.
In third place is the famous Canon in D by Johann Pachelbel. While the date and origins of the piece are unknown, there are suggestions that Pachelbel wrote it for the wedding of fellow composer Johann Christoph Bach.
Charlotte Hawkins said: "Classical music has gone hand-in-hand with weddings for generations. There must be millions of people, like myself, who have walked down the aisle on their special day to some of the world's greatest music. I'm delighted that Widor's 'Toccata' has won the vote to be the nation's favourite, it's a real showstopper of a piece that my parents had at their wedding. It can be a tricky one to play though, putting any church organist through their paces, but it ensures that the wedding couple and their guests are sent on their way with a spring in their step!"