ISIS release pictures of 'un-Islamic' instruments being burned
20 February 2015, 12:45 | Updated: 20 February 2015, 13:40
ISIS forces in Libya have released images of musical instruments being burned, as a reflection of their 'un-Islamic' status.
The pictures, which have been released by ISIS' 'media wing', show a line of armed soldiers watching a fire burn what appears to be a variety of drums and saxophones.

An accompanying message with the pictures states: "Hesbah seized these un-Islamic musical instruments in the state of Warqa." They were burnt "in accordance with Islamic law".

It's not the first time that musical instruments have been the target of ISIS' attention. A faction of the group in Syria was recently filmed beating a group of musicians and destroying their instruments.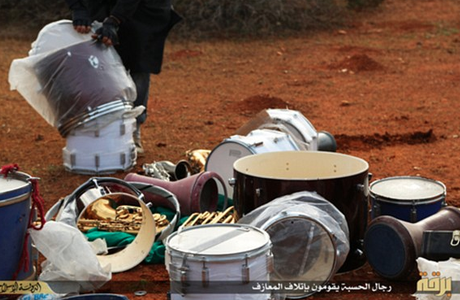 At the time, the ISIS forces responsible described the use of electric keyboards as "offensive to Muslims".
Gallery: stunning images of music in conflict

International Business Times also reports that, since September, schools in the ISIS-run city of Mosul have been omitting all arts and music content from their curriculum.
#Fahrenheit451 is the temperature at which Isis is burning instruments http://t.co/trxm6UlRMh http://t.co/UnIp743qis

— Xavier Oyharçabal (@thisisxavier) February 20, 2015