High Score with Jessica Curry will return to Classic FM in November
16 October 2017, 07:24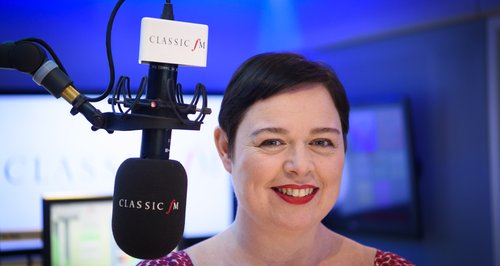 High Score, with BAFTA Award-winner Jessica Curry, returns for a new six-part series on Saturday 4th November.
We are delighted to announce that High Score, the only series on UK radio dedicated to video game music, will return to Classic FM for a six-week second series on Saturday 4th November at 9pm.
The acclaimed BAFTA Award-winning composer Jessica Curry is back to present each hour-long programme of the new series, which will launch and finish with all-request shows (4th November and 9th December), where Classic FM listeners can choose their favourite pieces of video game music.
Let Jessica Curry know your requests for High Score on Saturday 4th November >
The other programmes will focus on different themes, as Jessica explores depictions of love (11th November) and quests (18th November); celebrates spoken and sung voices within games (25th November); before she selects the best video game music of 2017 (2nd December).
This new run follows the success of the first series of High Score, broadcast in April and May 2017, which has become the most popular programme on 'Listen Again' in Classic FM's 25-year history. It also comes as Classic FM celebrates a big increase in younger listeners. According to the latest Rajar figures, 1.2 million under-35s are tuning in each week and there has been a 30% rise in under-25s listening to the station. This has been attributed to successes like High Score as well as Classic FM's digital and social media platforms.
> Read more about Classic FM's increase in listeners under 35
A pioneer from its launch in 1992, Classic FM aims to make classical music relevant and accessible to everyone, regardless of their age or background. Video game music first featured in the Classic FM Hall of Fame – the world's biggest annual survey of classical music tastes – in 2012 and, since then, the station has been a supporter of the genre. It has also premiered several video game scores including Fantasia: Music Evolved by Inon Zur and Abzû by Austin Wintory.
Jessica Curry is an internationally acclaimed BAFTA award-winning composer of contemporary classical music and co-founder of the renowned games company, The Chinese Room. She wrote the music for the 2015 game Everybody's Gone to the Rapture and for the powerful, genre-defying Dear Esther. The latter was brought to life on stage at The Barbican last year in Dear Esther Live, where it was played in real-time alongside musicians and the BAFTA-nominated narrator Oliver Dimsdale. Following its sell-out London premiere, the live concert experience is about to embark on a twelve-date UK tour, starting at Glasgow Tramway on Friday 3rd November.
Jessica Curry said: "I couldn't be more thrilled to present a second series of High Score for Classic FM. The first series was so much fun to do and the huge response that the show received was absolutely incredible. I'm just over the moon that people enjoyed it. I'm raring to go on the next one and can't wait to hear what people come up with for the requests shows!"
Sam Jackson, Classic FM's managing editor, said: "We were so encouraged by the response to the first series of High Score. Since the launch of Classic FM 25 years ago, the station has been a pioneer and aimed to break down the barriers to classical music, so we can't wait for the new series. It's also great to welcome back Jessica. With her music enjoyed by millions around the world, she has proved to be the perfect host of the series, showcasing video game music to our 5.8 million weekly listeners, but also introducing fans of the genre to Classic FM."
High Score, presented by Jessica Curry, returns on Saturday 4th November at 9pm on Classic FM - available across the UK on 100-102 FM, digital radio, at ClassicFM.com and on the Classic FM app.