Composer Joseph Haydn's skull went missing from his grave – and now he's buried with an extra head
27 October 2021, 10:33 | Updated: 27 October 2021, 10:40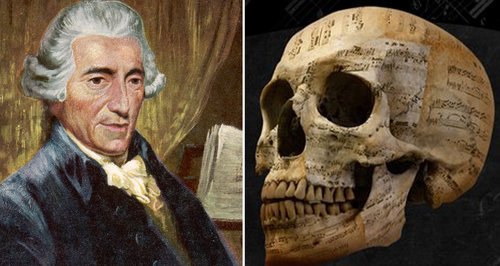 10 years after Joseph Haydn died, his body was to be transferred to a grand tomb, befitting his status as a musical genius. But when the grave was opened… the head was missing.
Austrian composer Franz Joseph Haydn was the brightest musical star of his age. He was the darling of the musical world, from Vienna to London.
When he died in June 1809 there was a great outpouring of public grief. But at the time, Vienna was at war and there was no time to properly honour the great man. He was buried quickly in a cemetery on the outskirts of Vienna.
10 years passed. Someone reminded Haydn's employer, Prince Esterházy, that he'd promised to give Haydn a more fitting tomb.
Arrangements were made. A large marble tomb was ordered and in 1820 the Prince watched while gravediggers lifted the composer's grave to the surface.
They opened the coffin.
And the Prince was met with the sight of an empty powdered wig where Haydn's head had been. The skull was missing…
1954: Austrian poet and sculptor Gustinus Ambrosi places Haydn's skull in the Eisenstadt church
Listen to the full story on our podcast Case Notes
In the very first episode of our brand-new podcast, Case Notes, Tim Lihoreau investigates one of the most bizarre mysteries from the history of music. Subscribe on Global Player, iTunes, Android, or listen right here in the player below, or wherever you get your podcasts.

You can see pictures of Haydn's head in its display case and of the ceremony to return it to its resting place here.
The recordings featured in this episode were:
The Creation – Haydn
Collegium Vocale Gent and the Orchestre des Champs-Élysées conducted by Philippe Herreweghe
'London' Symphonies – Haydn
Orchestra della Svizzera Italiana, conducted by Howard Shelley
The 'Joke' Quartet – Haydn
The London Haydn Quartet
The Queen of the Night's aria from The Magic Flute – Mozart
Sabine Devieilhe (soprano), Pygmalion conducted by Raphaël Pichon
Guests include music professor Erik Levi and mortician Carla Valentine, as well as writer Colin Dickey and Classic FM presenter Catherine Bott. Original music was written by Thomas Hewitt Jones.