Bournemouth Symphony Orchestra launches professional disabled ensemble
7 February 2018, 11:42 | Updated: 7 February 2018, 13:16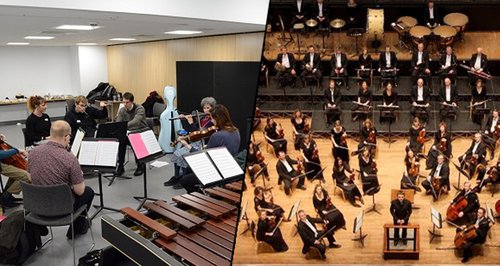 Classic FM's Orchestra in the South of England, the Bournemouth Symphony Orchestra, has become the first symphony orchestra in the world to have a professional ensemble led by disabled musicians.
The Bournemouth Symphony Orchestra has announced the six founding musicians of its new disabled-led ensemble.
Siobhan Clough (violin/ viola), Phillip Howells (percussion), Roger Preston (cello), Kate Risdon (flute), Matthew Scott (clarinet) and Charlotte White (LinnStrument) are all professional standard and will be given performance opportunities, professional development and paid professional rates.
Three of the musicians studied at London conservatoires and one – Siobhan Clough – is currently in her third year at the Royal Academy of Music in London.
The ensemble, whose name is to be announced in due course, will become a permanent part of the Orchestra's output.
The musicians will also work with the BSO to improve how the orchestra accommodates the needs of the ensemble players and their disabilities.
All six musicians were auditioned by the orchestra in November. They will work alongside James Rose, a disabled conductor, who will lead the ensemble in a series of public performances and workshops to disabled and non-disabled young people.
James Rose said: "During the audition process for the ensemble, we met with musicians from around the world with a wide range of talent. I am delighted that Siobhan, Phillip, Roger, Kate, Matthew and Charlotte have joined the ensemble. The ensemble will deliver a varied programme of high-quality performances, as well as participation work, as the other BSO ensembles do. I am very excited for what the future has in store for this ensemble."
> What inspired BSO Change Maker James Rose to become a conductor? Find out here.
Dougie Scarfe, CEO of the BSO, said: "The BSO is delighted to welcome these incredibly talented musicians to the ensemble. I am extremely proud that the BSO is the first Orchestra in the world to have a professional disabled-led ensemble as a core part of its activities. I know that this new BSO ensemble will help promote diversity within the arts and society as a whole, making music more accessible to everyone."
> Find out more about BSO Change Makers