David Cameron talks exclusively to Classic FM: 'Get the basics of education nailed down then look at music'
27 April 2015, 00:01 | Updated: 16 June 2015, 14:27
The Prime Minister has said reading, writing and numeracy must come before music education in the first of a series of pre-election interviews between party leaders and Nick Ferrari, broadcast on Classic FM.
Listen again to the full interview >

Conservative leader David Cameron told Classic FM that music education is important, but reading, writing and numeracy must come first
"Music education is hugely important. But I think sometimes we get ourselves in a bit of a muddle about this. Sometimes people look at the core of the curriculum and they want everything to be in it. And I'm a great believer that at the heart of a good education you've got to get the basics right. And so we've been quite tough saying the basics have got to be the reading, the writing, the numeracy. We've been promoting this thing, the English Baccalaureate, with the heart of a good education.
"And the more I think you get the basics nailed down, the more opportunities there then are to look at art and culture and drama and music - and indeed sport.
"And we've invested in these things. As a government we've put something like £390m into music education. We've created these hubs around the country so that more children get the chance to learn a musical instrument. I think it is important. There's more to be done but there's a lot of work going into it at the moment."
David Cameron went on to talk to Nick Ferrari about a wide range of subjects. Here are the highlights: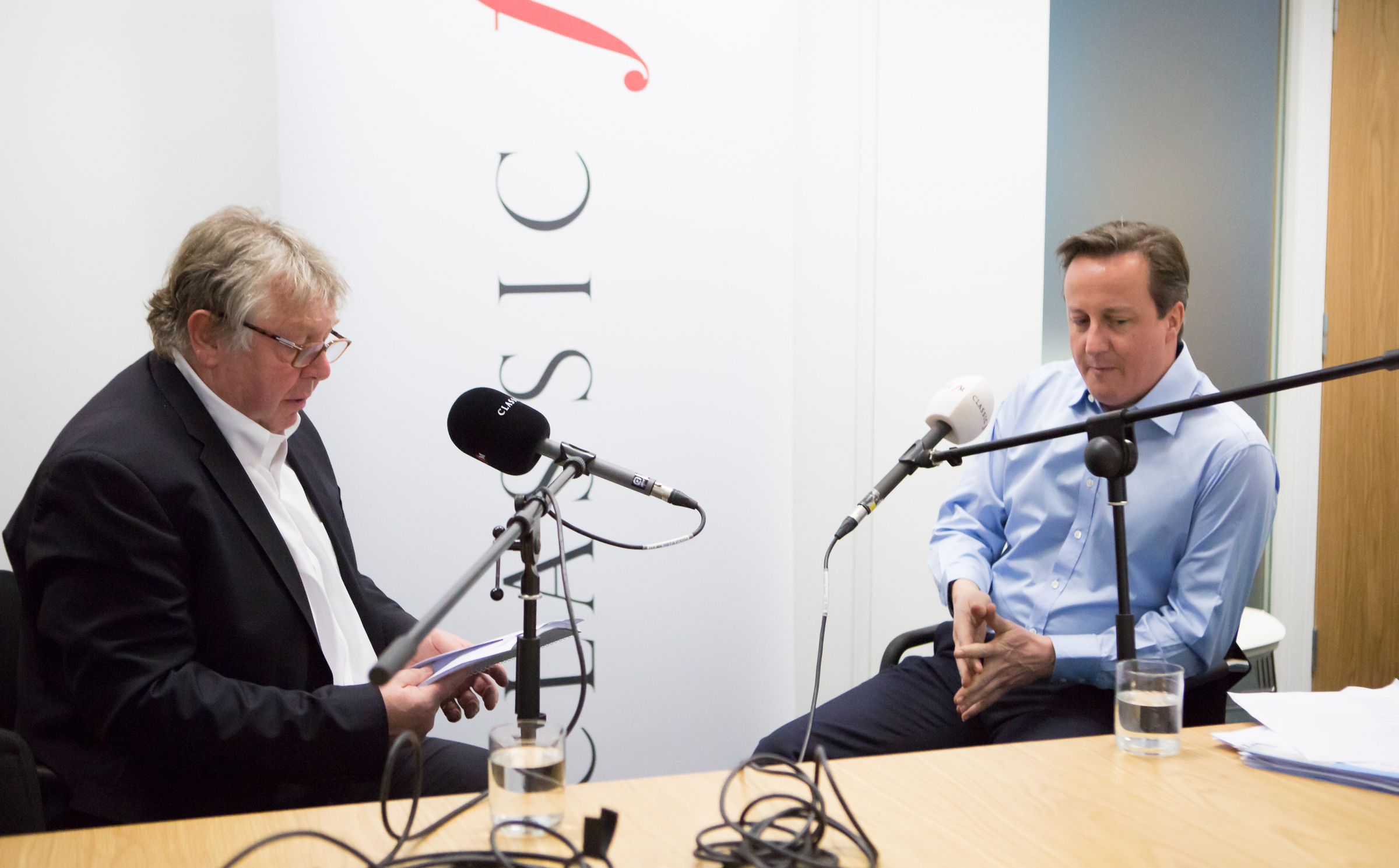 Cameron loves films. Especially The Good, the Bad and the Ugly
"I love watching westerns. One of the ways I relax is sort of lying on the sofa watching a film I've probably watched many times before and this one I have watched so many times. I love all the spaghetti westerns. It's a great film and I love Clint Eastwood and Ennio Morricone did write some fantastic music."
In fact, the last time the Prime Minister cried was because of a film (not a western)
"I do cry in films actually. If I watch The Sound of Music… as soon as we get on Edelweiss I'm reaching for the Kleenex… [I recently saw] the Tom Hanks film, Saving Mr Banks, I thought Emma Thompson's performance, when she's recalling her own father and the alcoholism… and definitely, Samantha and I were watching it and we both had a lump come to the throat."
…And which film was David Cameron watching when he proposed to his wife Samantha?
"Well it was rather an odd proposal. We were lying on the sofa watching a movie. You know there had been lots of other opportunities for the romantic proposal and I'd… sort of my nerves had failed me. And suddenly watching Mean Streets..."
David Cameron played the drums at school, but didn't get far
"I wasn't particularly musical. The piano and those things weren't working out for me. But I loved playing the drums... but I didn't get that far. I think I got as far as playing the drums on Tie A Yellow Ribbon Round the Old Oak Tree. My problem was - this will sound like a feeble excuse - but I'm left-handed and right-footed and actually if you're a drummer that can be a bit of a problem. You want to be all left or all right and I was a bit of a mixture."
Cameron's faith helped him through the death of his son Ivan
"I suppose I'm sort of quite classically Church of England in that I have all sorts of doubts and uncertainties about some of the things that are in what we're all meant to believe. But I sort of fundamentally think the teachings of Jesus Christ are quite a good guide to life.
"We think about Ivan a lot. And that was obviously a huge test. I think I got a lot of support from our local vicar down in Oxfordshire. He was brilliant and very helpful. And I would say probably made me think more about these things and I think we found some sort of comfort in having somewhere to go and talk to someone and somewhere to pray."
David Cameron likes Nick Clegg's tennis technique. But he beats the Deputy Prime Minister 'consistently'
"The only reason it's consistent is it's happened twice. Both times I've sort of got through on the skin of my teeth… [Clegg] has got very good style. He's a very polished player. And I think I've been lucky to win. So I'm not going to play again. Played two, won two, that's it."
The first piece of music Cameron bought was...
"It might have been The Glitter Band - after Gary Glitter had left them and they carried on - and I remember getting a Bay City Rollers album."
David Cameron's music choices
David Cameron picked the music for his show and explained his choices:
Theme to the film The Good, the Bad and the Ugly by Ennio Morricone
Reason: "It's a great film and I love Clint Eastwood and Ennio Morricone did write some fantastic music."
Piano Concerto No. 5 ('Emperor') by Beethoven
"An extraordinary, moving piece of music... I remember playing the record in my room at school at night and drifting off to sleep with the slow movement being such a beautiful piece of music. This is what first introduced me to classical music."
'Beim Schlafengehen' from Vier letzte Lieder (Four Last Songs) by Richard Strauss, sung by Jessye Norman
"This reminds me of the early days of being married, living in London and this fantastic voice echoing around the house."
Third movement from Horn Concerto No.4 by Mozart
"One of my best friends, Tom Gough, was a brilliant music scholar but a tremendous bon viveur... he could play the Mozart horn concerto even after a long night in the pub and it was his party piece."
On Wings of Song by Mendelssohn
"The words of the last verse sum up everything about getting married: 'There we will lay down under the palm tree, peace and love and drink and dream our blissful dream.'"
'Nimrod' from Enigma Variations by Elgar
"Whenever I hear this I feel the goose bumps go up on the back of my neck. It's just one of those pieces of music that makes you feel incredibly proud to be British."
Nick Ferrari is also interviewing Liberal Democrat leader Nick Clegg at 7pm on 28 April and Labour leader Ed Miliband at 7pm on 29 April - both on Classic FM.