Classically trained soprano calls out body-shaming in the music and theatre industries
27 June 2019, 15:25 | Updated: 27 June 2019, 16:07
Soprano Stephanie Lexis has created eye-catching graphics drawing attention to situations where women's looks were placed ahead of their skill in theatrical and musical casting.
Classically trained soprano, Stephanie Lexis, is spearheading a social media campaign to draw attention to body-shaming in the musical theatre industry.
'The Broadway Body Positivity Project' exists on Facebook, Instagram and Twitter, and aims to "promote body positivity and diversity in theatrical casting".
Using bright colours and different fonts, Lexis creates bold quote graphics featuring the real experiences opera singers and theatre performers have when auditioning for roles, taking part in vocal lessons, and after performances on stage.
"While rehearsing for the spring opera, our (older female) director said at least once during every rehearsal: 'Now ladies, you better watch those waistlines over the holidays! You still need to fit in your costumes!' She genuinely thought this type of body-shaming was playful and acceptable," writes one singer in a Broadway Body Positivity post.
Another contributed: "I have been typecast out of so many projects because of the way I look."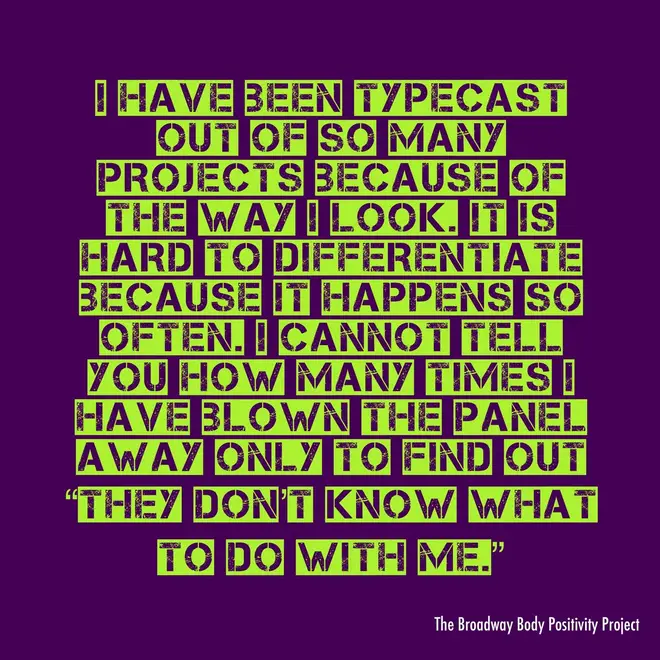 Another singer shared: "A voice teacher kept referring to me as a 'big person' and insinuated I'd never be cast as an ingenue. I'm a lyric coloratura, 5'6" [167cm], and wear a size 8-10."
Other women's experiences – from consistent type-casting, to being told by audition panels otherwise full of praise that "weight matters unfortunately" – can be seen in the video above.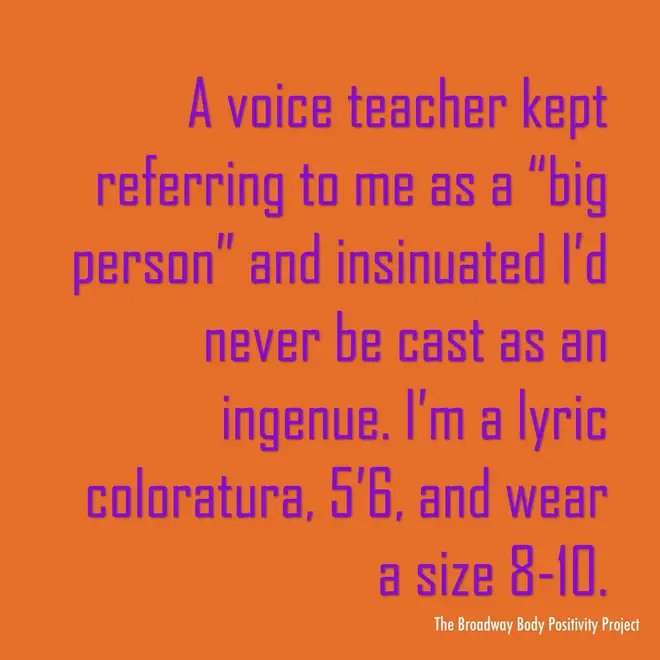 Lexis aims to positively promote the representation of "all body types" on the stage, and hopes calling out such starkly negative experiences will draw attention to issues faced by female performers, and help lead to change.
"I've collected countless stories of actors and opera singers who have been body shamed while pursuing the stage," Lexis writes on the Broadway Body Positivity Project Facebook page.
"I hope that these stories open a dialogue about the changes that need to be made in our industry, because this is a systemic issue – not sour grapes."
Visit The Broadway Body Positivity Project Facebook page to find out more.