Bill Turnbull talks about Classic FM's Pet Sounds, a programme designed for your furry friends this bonfire night
1 November 2018, 16:20
Bonfire night is an exciting highlight of the year, but it can be a distressing evening for our pets. So this Saturday, Bill Turnbull will play the most relaxing music on Classic FM especially for our four-legged friends.
It's Bonfire Night on Monday, Saturday evening is the busiest night for firework displays across the UK. While they are spectacular events, for our four-legged friends, they can be stressful and traumatic.
At Classic FM we've long known about the positive and soothing effects of classical music – but did you know this can extend to animals too. We've teamed up with the experts at Battersea Dogs & Cats Home, to bring you Pet Sounds, presented by Bill Turnbull. This special programme is designed to help keep anxious pets – and their owners – calm and relaxed throughout the evening and will be air on Saturday 3 November from 7pm to 9pm.
Working with the Animal Welfare Team at Battersea, Bill has compiled the perfect selection of soothing classical music to help calm the nerves and ease the stress for pets and their owners during the noise and bright lights of the night. The programme will also feature advice from the Battersea team for any worried owners looking to reassure their animals.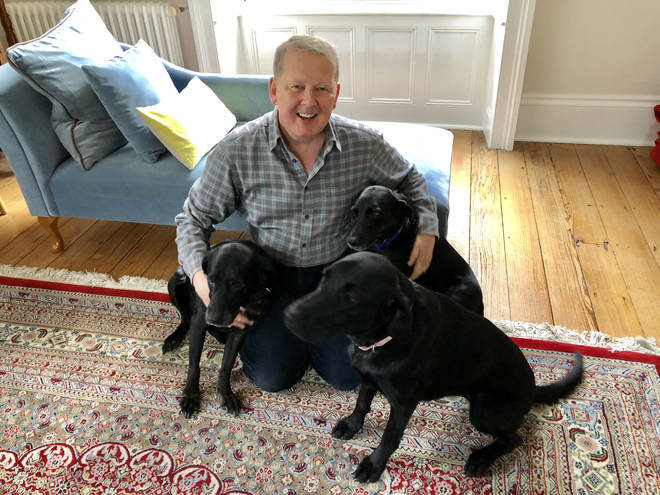 Bill Turnbull spoke to us ahead of this weekend's programme.
Tell us about Classic FM's Pet Sounds programme.
It's specifically devised for pets – dogs, cats, hamsters, gerbils – who may be nervous on Fireworks Night and need something to calm them down, so this is their radio refuge.
How do you feel about presenting a programme just for pets and their owners?
I've been very happy presenting to the humans for the past two-and-a-half years on Classic FM, so this is an absolute pleasure and even possibly even a step up!
What are you particularly looking forward to?
The music that we play on Classic FM is always relaxing but what we have lined up for Pet Sounds is even more chilled than usual, which is great. A lot of it is pet-related so there is a piece that Elgar named after his cairn terrier called Mina. John Barry has got a lovely lyrical composition called Crazy Dogs and there's a nice little story I'll be able to tell about Mozart and his pet starling. I never knew he had a pet starling. Apparently, he had a funeral for it when it died.
As a dog owner yourself, do you think that classical music can have a positive effect on animals?
Undoubtedly. There have been studies showing the calming effect that music has on humans, but I think about three years ago, the Scottish SPCA and Glasgow University found that when music was played to dogs, their heart rates went down, their stress levels decreased and their behaviour overall calmed down considerably. So it definitely works scientifically and we know from our dogs that they do get chilled when they're lying down listening to Classic FM.
Tell us about your own dogs.
We have three dogs, all black Labradors. We have Nina who's 12, Bonnie who's 9 and Lola who is just a year old.
Being Labradors, what are they like with firework displays? Are they alright?
I can't remember if they've ever been close to a firework display. Nina's okay with it but I don't think the others have ever heard one. We did have a dog though, Ella, who we lost a few ago and she hated fireworks, absolutely hated them and would cower under the furniture whenever she heard the bangs going off. There will be many, many dogs like that who I hope will be tuning in on Saturday night.
Do you think your dogs enjoy classical music?
Well they haven't actually been able to tell me in so many words, but I always play Classic FM for them when I leave them on their own. It's just the rule, it just goes on. They're certainly calm when I leave and they're calm when we come back. Basically, they're probably up and down, bouncing to rock and roll while we're out, but for all appearances, they enjoy it very much.
Have you always been a dog lover?
Absolutely. When I was a baby or a toddler, I was rolling around on the floor with the dog that we had then and I grew up with them. There was a long period in my early adulthood sadly when I was without dogs because I was moving around, living in America and that sort of thing, but then we got given a black Labrador, 20 years ago, called Oscar. He was an absolute legend and then we were just sold on Labs ever since.
And finally, if you were a particular breed of dog, what breed would you be and why?
That's a very difficult question. I don't think I'm docile enough to be a Labrador. I think I'd probably be a Boxer because I am loyal, very warm emotionally but also temperamentally a bit of a pugilist.
In addition to his regular Saturday and Sunday shows on Classic FM, Bill Turnbull presents Classic FM's Pet Sounds this Saturday 3 November from 7pm to 9pm.