Albania national anthem mixed up with Andorra's during Euro 2020 qualifier against France
9 September 2019, 15:14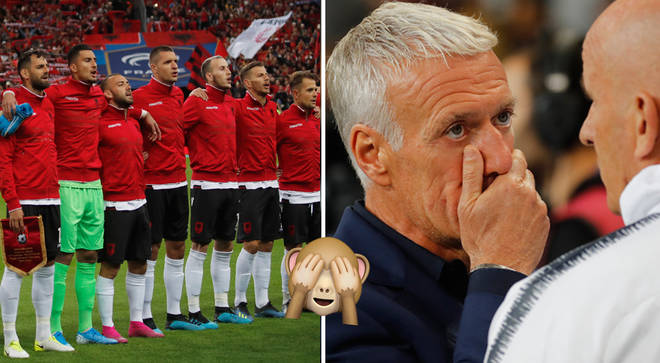 The epic musical mix-up took place right before kick-off – and the players' confused facial expressions said it all...
Last Saturday, Albania's national football team refused to play against France after the wrong anthem was played out during the European championship qualifier.
Albania's team had lined up in the Stade de France, arms linked and ready to sing their hearts out before the big game (see video below) – but instead of hearing the anthem for their own country, the music for Andorra began to play instead.
And judging by the pro-footballer's facial expressions, they were rather confused to say the least.
They had been prepared to belt out the words, "Rreth flamurit të përbashkuar, me një dëshirë dhe një qëllim" – ("United around the flag, with one desire and one goal) – but soon stopped in their tracks.
While some of the team shook their heads in disbelief, others chose to remain silent – and yet, no one stepped forward to alert the organisers about the unfortunate mishap.
However, Albania's fans were quick to pick up on the error and began to jeer across the stadium in their thousands.
Before producers eventually found the correct anthem, the saga continued when the stadium announcer apologised – but to the wrong team: "Please respect the Armenia national anthem."
What ensued were several minutes of total confusion before Albania's national anthem was finally played out, after officials consulted the referee, allowing the two sides to resume the game.
Didier Deschamps, France's manager, told reporters: "I apologised to the bench and to the coach. It's something that should not happen, but it happened.
"I understand the position of the Albanians and it is logical that we waited until the Albanians could have their anthem before that match."
Football fans watching at home also took to Twitter to share their confusion:
WHAAAT ???

WHITE HORSE (Laid Back ) IS NOT ANATEM OF ALBANIA ???

NO WAY 😂😂😂😂😂😂

— STORMBRINGER ⚠🔞💨💥🔥⚡ (@Johnybegood85) September 8, 2019
Lol could be worse, i recall at a recent copa America they played a pit bull song instead of the Chilean national anthem.

— Estevan (@VatoEstevan) September 7, 2019
An epic musical mix-up...