9 times giant pianos brought sheer joy to the world
10 September 2019, 15:35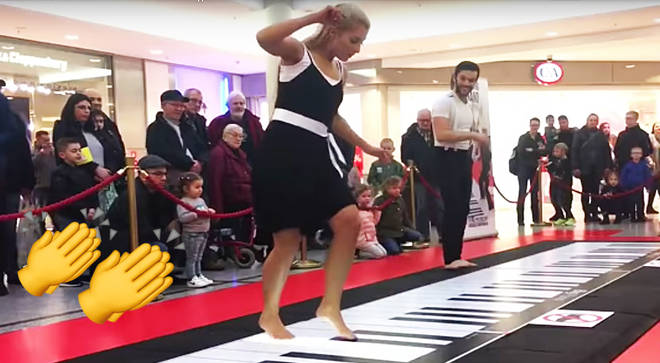 From film soundtracks and Christmas carols to classical music favourites, here are nine giant piano performances to brighten up your day.
Here at Classic FM, we just can't get enough of those black and white keys – and these piano enthusiasts are everything right now.
Even actors Tom Hanks and Sandra Bullock have given it a go...
Euphemia Allen's 'Chopsticks'

Inspired by the giant piano scene on 1988 fantasy comedy film, Big, TV talk show host Jonathan Ross couldn't resist requesting a quick demo from his guests Tom Hanks and Sandra Bullock. And of course, it's totally awesome.

Yann Tiersen's 'Comptine d'un autre été'

This dreamy piece of music found its fame on the soundtrack for French film, Amélie – and these talented dancers have dedicated their giant piano performance to the instrument's inventor, Remo Saraceni.


Hoagy Carmichael's 'Heart and soul'

This live performance took place at Weserpark shopping centre, in Bremen, Germany, and will totally lift your spirits.

James Pierpont's 'Jingle Bells'

Just in case you were looking for some festive cheer...

Beethoven's 'Für Elise'

Giant piano duet, anyone?

Yiruma's 'River Flows In You'

Ever since it was featured in the Twilight saga, 'River Flows in You' has become a favourite for many – and this interpretation is simply beautiful.


Henry Mancini's 'The Pink Panther' Theme

Written for the 1963 comedy film, The Pink Panther, Mancini's catchy theme has become hugely popular with movie fans and received a nomination for 'Best Original Score' at the 37th Academy Awards.

Bach's 'Toccata and Fugue in D minor' and Scott Joplin's 'The Entertainer'

Shoppers were treated to two playful performances at iconic toy store, FAO Schwarz, but which do you prefer?

Frank Sinatra's 'New York, New York'

No giant piano video collection would be complete without this 1977 Sinatra classic... Enjoy!
Feeling inspired? If you've had fun on a giant piano and own some footage you'd like to share, tweet us!