Ever heard of Dorothy Rudd Moore, the trailblazing melodist who established a society for Black composers?
20 May 2021, 16:08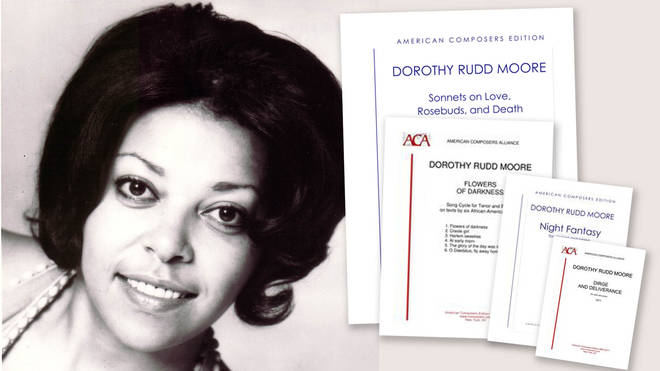 Through her original compositions and dedication to teaching, Rudd Moore has inspired a diverse new generation of musicians.
Dorothy Rudd Moore is a pioneering composer and music teacher from Delaware in the US.
She co-founded the Society of Black Composers in New York with fellow writers in 1968, and has inspired a generation of musicians teaching at Harlem School of the Arts, New York University and Bronx Community College.
She studied composition under Paris Conservatoire pedagogue Nadia Boulanger in 1963, and Chou Wen-Chung in New York in 1965, among others.
And she has composed a number of piano, chamber, vocal, choral and orchestral works. Here's everything you need to know about one of the leading African American composers of her generation…
Read more: Who was Chiquinha Gonzaga? Brazil's first female conductor who left her husband for music
Musical background and education
Dorothy Rudd Moore was born in New Castle, Delaware in 1940. Her mother was a singer and Rudd Moore had full support from her parents to pursue music studies. She studied the piano at Wilmington School of Music and also learned the clarinet so that she could join the band at Howard High School, busting through the all-male demographic of that band when she did so.
"I never knew a time when I wasn't interested in music," the composer told William C. Banfield, the author of the book, Musical Landscapes in Color.
Rudd Moore studied with Dean Warner Lawson, Thomas Kerr, and Mark Fax at Howard University, graduating in 1963 and earning a fellowship from the university to continue studies in Paris with the legendary Nadia Boulanger.
She also studied with Chinese-American composer, Chou Wen-chung, in New York.
Read more: Meet Nadia Boulanger, the inspiring woman behind the 20th century's greatest composers
Composer of works commissioned by top US orchestras
Dorothy Rudd Moore has had pieces of music commissioned by the Washington-based National Symphony Orchestra, Opera Ebony, and the Buffalo Philharmonic, as well as numerous solo artists.
She has written an opera, Frederick Douglass (1985) about the eponymous American abolitionist, several choral and vocal works, including In Celebration (1994), a one-movement symphony (1963), and several chamber and piano works.
Her works have been recorded by US independent label, Performance Records, and clarinettist Marcus Eley on Dorian Sono Luminus.
In 1968 she became a co-founder of the Society of Black Composers in New York, and she is a composer championed by the American Composers Alliance, itself founded by fellow-Boulanger student Aaron Copland, alongside Milton Adolphus, Marion Bauer and others in 1937.
Rudd Moore sat on the New York State Council of the Arts for two years from 1988.
A passionate music educator
Like her most famous teacher, Rudd Moore is a passionate music educator. As well as teaching privately, she has taught at the Harlem School of the Arts, New York University and Bronx Community College.
She was married to the late cellist Kermit Moore, who founded the Society of Black Composers with his wife, and who also co-founded the Symphony of the New World, the first racially-integrated orchestra in America.
Hear Dorothy Rudd Moore's music played on Chi-chi's Classical Champions on Classic FM from 23 May onwards. Listen to Classic FM across the UK on 100-102 FM, DAB digital radio and TV, and on Global Player, the official Classic FM app, via your smart speaker ("play Classic FM"), iOS or Android device and at ClassicFM.com.