The most soothing pieces of classical music – in Mental Health Awareness Month
19 May 2023, 17:33 | Updated: 25 May 2023, 15:56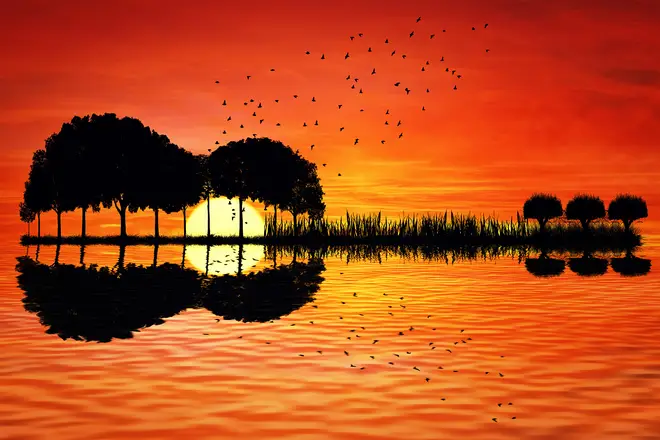 Classic FM presenters chose the pieces of music that bring them calm and solace, in times of need.
Various studies have proven the calming effect of classical music. As well as having the power to ease nerves and jitters, and decrease your heart rate, it can also lower your cortisol levels and increase blood flow to the brain. There's even a study out there that says it takes 'nine minutes' for music to make you happy, and to start smiling and laughing more.
In Mental Health Awareness Month, which this May focuses on anxiety, we asked some of our evening Classic FM presenters to tell us about the pieces of classical music that bring them calm and focus, when times are tough.
From Debussy to Delius, here are the soothing pieces they chose.
Read more: 10 most relaxing pieces of classical music
Rachmaninov – 'Adagio Sostenuto' from Piano Concerto No.2

"If any piece has that little touch of magic, it's what we like to call 'Rach 2'. It's simply one of the beautiful pieces of music, with soaring melody after soaring melody. And the nation agrees about that magic too – it's currently sitting at the top the Classic FM Hall of Fame."

Myleene Klass: Calm Classics, weekends 10pm-1am

Listen to Calm Classics with Myleene Klass on Global Player >

Rachmaninoff - Piano Concerto No. 2 in C minor, II. Adagio Sostenuto

Delius – On Hearing the First Cuckoo in Spring

"I find a walk in the park or ideally a big country ramble really helpful when I'm feeling stressed or down. But of course that isn't always possible. Listening to this piece conjures up the beauty and serenity of the outdoors which I find instantly calming and restful."

Ritula Shah: Calm Classics, weekdays 10pm-1am

Listen to Calm Classics with Ritula Shah on Global Player >

Delius - On Hearing the First Cuckoo in Spring

Bach – 'Prelude' from Cello Suite No.1

"This piece is just like a big musical hug. It's one of the pieces we used to have playing in the house all the time when I was growing up, and it's really helped me over the years when I need a moment of quiet reflection. When it doubt, always turn to Bach…"

Charlotte Hawkins: Smooth Classics at Seven, Sundays 7pm

Listen to Smooth Classics at Seven with Charlotte Hawkins on Global Player >

Yo-Yo Ma | 'Prelude' from Bach's Cello Suite No. 1 | Classic FM Sessions

Mahler – 'Adagietto' from Symphony No.5

"Like so many people, I associate Mahler's Symphony No.5 with Death in Venice, a restless and at times disturbing movie. Mahler himself called the first movement a 'Funeral March'. But the Adagietto was a love song for his new wife and it is ripe with emotion. I adore Venice and once spent a very happy time studying there so for me this music brings back positive memories of a special and dreamy time. A certain way to lift my mood."

Ritula Shah: Calm Classics, weekdays 10pm-1am

Mahler: Symphony No. 5 (Adagietto) / Rattle · Berliner Philharmoniker

John Barry – The Beyondness of Things

"Now, if ever there was a Calm Classics favourite, this is it. A beautiful melody, evocative harmony, with the sort of contemporary touch only John Barry can add. A pure musical tonic for when you need that moment of stillness."

Myleene Klass: Calm Classics, weekends 10pm-1am

Barry: The beyondness of things

Chopin – Ballade No.4

"Chopin, always Chopin when times are tough. It's difficult to choose a single piece but there is such a wide range of emotion in Ballade No.4, it seems like the perfect choice. Poetic and complex - a mirror on our sometimes turbulent inner lives."

Ritula Shah: Calm Classics, weekdays 10pm-1am

Chopin - Ballade No. 4 in F Minor (4M Special)

Alberto Giurioli – 'Tutto è bellissimo'

"My daughter Ella Rose loves this piece. It's calming and relaxing, and helps us both wind down at the end of the day. Listening to this just puts tingles down my spine. One of those pieces that makes me think, 'I wish I could play piano like this!'."

Charlotte Hawkins: Smooth Classics at Seven, Sundays 7pm

Pianist Alberto Giurioli plays calming music for RSPCA rescue dog

Debussy – 'Clair de lune' from Suite Bergamasque

"Popular for good reason. I adore this piece so much that it is the ringtone on my phone. Who wants to be jolted into answering a call? I'd rather be gently bathed in moonlight and believe the world is a calm and peaceful place."

Ritula Shah: Calm Classics, weekdays 10pm-1am

Lang Lang – Debussy: Suite bergamasque, L.75: III. Clair de lune