Carnegie Hall at 125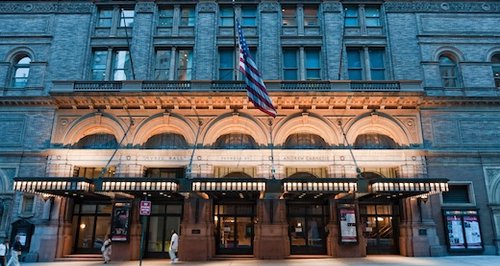 Classic FM celebrates a landmark anniversary for the iconic venue.
CARNEGIE HALL AT 125
One of the world's most famous and renowned concert halls turned 125 yesterday. The landmark New York venue has played host to countless important premieres, as well as helping to launch now-famous classical musicians at the beginning of their careers. All week, Classic FM has been celebrating with a series of special Full Works Concerts.
Friday 6 May, 8pm

For the final time this week we're off to the Big Apple on Classic FM to celebrate one of the world's most famous concert halls, which turned 125 yesterday. Carnegie Hall has a rich and varied history of world-class music-making, and tonight Catherine Bott tells a few of the stories behind the New York venue. She'll be playing recordings connected to these events, from the violinist Isaac Stern who was instrumental in saving Carnegie Hall from demolition in the 1960s, to Leonard Bernstein who made a sensational debut there in 1943.

Gershwin: An American in Paris
New York Philharmonic Orchestra/Zubin Mehta
Kreisler: Schön Rosmarin
Isaac Stern/Alexander Zakin
Tchaikovsky: Symphony No.5 in E minor Opus 64
New York Philharmonic Orchestra/Leonard Bernstein
Paderewski: Piano Concerto in A minor Opus 17
Karol Radziwonowicz/Cracow Philharmonic Orchestra/Roland Bader