Does Ryan Gosling really sing and play guitar as Ken in 'Barbie'?
24 July 2023, 12:01 | Updated: 24 July 2023, 12:04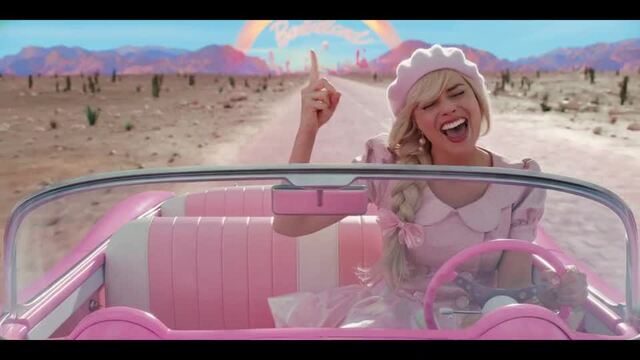 Watch the official Barbie trailer
Ryan Gosling brings the ultimate Ken-ergy to Barbie with power ballad 'I'm Just Ken', and a special serenade for his true love. But is it really him singing, and can he actually play the guitar?
Arguably 2023's most highly-anticipated cinematic release, Greta Gerwig's Barbie lands in cinemas on Friday 21 July, with a star-studded cast that essentially reads as a 'who's who' of Hollywood and pop culture.
Margot Robbie portrays 'stereotypical' Barbie, who lives in the centre of Barbieland. Her neighbours, each different iterations of the original Barbie doll, include Emma Mackey, Nicola Coughlan, Issa Rae, and pop star Dua Lipa.
Ryan Gosling is Ken, a professional at 'beach', flanked by an army of Kens played by Simu Liu, Ncuti Gatwa, Kingsley Ben-Adir and John Cena.
Read more: The 'Barbie' film needed iconic opening music, and they chose Richard Strauss - here's why
The dramatic apex of the film comes as Gosling's Ken has his very own existential crisis. After all, who is Ken if not an accessory for Barbie?
Naturally, Ken expresses his emotions the only way he knows how: through dramatic power ballad, complete with choreography. We investigate his singing and guitar-playing skills, in the new song of 2023: 'I'm Just Ken'.
Read more: Here's how 'Barbie Girl' might have sounded, if it had been written by Mozart
Does Ryan Gosling sing 'I'm Just Ken'?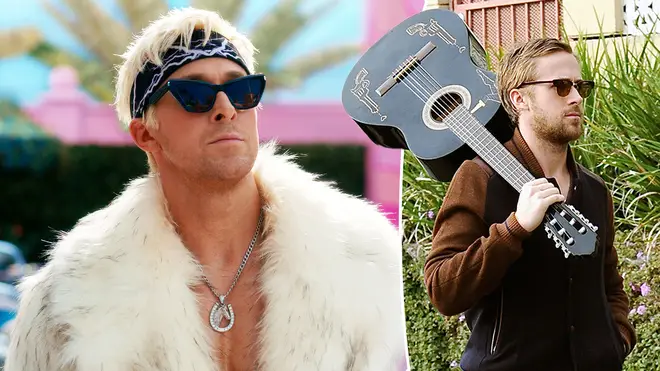 Although Barbie's bespoke soundtrack features more than 15 original songs by some of the top pop artists of today, only one of them is performed in musical theatre style, by an on-screen character.
'I'm Just Ken', written by Mark Ronson and Andrew Wyatt, is an emotional power ballad performed by Ryan Gosling as Ken, as he comes to terms with his own sense of identity.
With a guitar solo by none other than rockstar Slash, of Guns N' Roses fame, Ken contemplates his existence with lines such as "Is it my destiny to live and die a life of blonde fragility?," and what might be history's greatest rhyming couplet: "I'm just Ken and I'm enough, And I'm great at doing stuff." Move over Shakespeare.
But is it really Ryan Gosling's voice behind those silky smooth vocals and full, bare-chested belting?
Read more: Does Nick Mohammed really play violin in Ted Lasso?
You can bet your bottom dollar it's him. In fact, he's been performing from a very young age, singing with his sister, Mandi, at weddings as well as performing with his uncle in an Elvis Presley tribute act, and joining the local ballet company.
Gosling's first taste of fame came at age 12 in 1993, when he joined the cast of The Mickey Mouse Club on the Disney Channel alongside Britney Spears, Christina Aguilera, and Justin Timberlake.
And thanks to that fateful appointment, and the Internet, we have irrefutable proof of Ryan Gosling's singing abilities.
(Not to mention that viral dancing video from 1992. You could tell us that was his audition tape for Ken and we'd believe you.)
mickey mouse club - cry for you
Can Ryan Gosling play the guitar?
In the lead-up to Ken's big break, there's another musical moment for Gosling.
As a grand, romantic gesture, Ken kindly and selflessly plays his guitar and sings 'at' Barbie beside a beach bonfire, with a cover of American pop rock group Matchbox Twenty's 1995 single, 'Push'.
Admittedly, for a moment in the film it seems dubious that Gosling is even holding a real guitar, let alone playing one.
And whether or not it's actually him we can hear playing on the soundtrack recording remains to be seen, but we do know that he can play the guitar thanks to a short-lived music career in the late noughties.
Gosling formed one half of pop rock duo Dead Man's Bones, under the alias 'Baby Goose' alongside his friend Zach Shields. The duo released a self-titled album in 2009, in collaboration with the Silverlake Conservatory Children's Choir.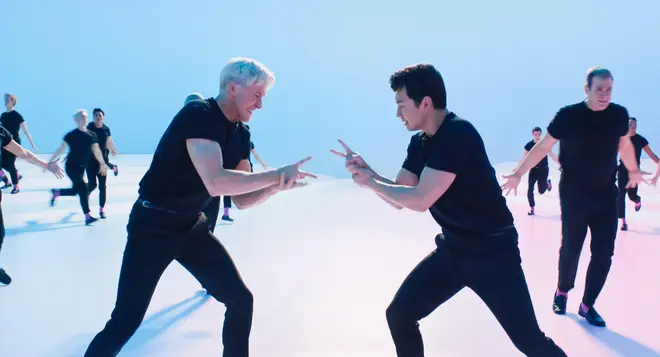 What musical instruments does Ryan Gosling play?
To no one's surprise and everyone's delight, it seems that Gosling is a multi-talented musician with plenty of strings to his bow.
Elsewhere in Dead Man's Bones' discography Gosling can be seen playing the piano and electric bass, and various sources report that he also contributed a cello track to the album.
Famously, Gosling also polished up his piano prowess for La La Land in 2016, where he played a gigging jazz pianist with lofty ambitions. In press interviews promoting the film, Gosling told Jimmy Kimmel that it really was him playing the piano: "I had to play the whole theme of the movie on the piano in one take, without messing up."
Read more: The 'La La Land' theme sounds completely exquisite on harp
Rumour has it that Gosling was even invited to join the Backstreet Boys in the 1990s by his then-neighbour, AJ McLean. Gosling declined, reportedly of the opinion that they would never really take off.
And while Gosling's assessment of the Backstreet Boys ain't nothin' but a mistake, we can't say we're sorry he passed on the opportunity.
After all, Barbie without Ryan Gosling just wouldn't be good Kenough.