How to propose to a classical musician this Valentine's Day
13 February 2020, 16:05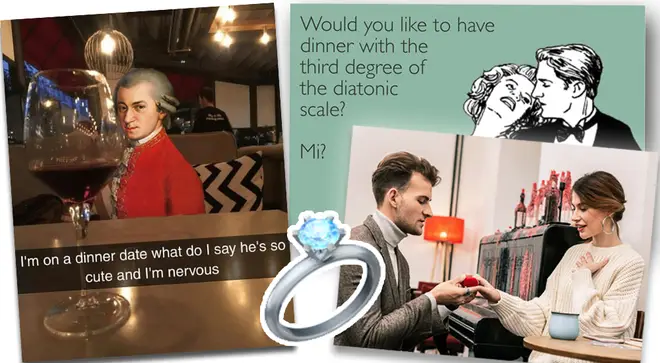 If you're planning on popping the question to a special muso in your life this Valentine's Day, we've rounded up the perfect ways for you to pull it off.
Achieving a perfect proposal is a big task, especially when the person you're proposing to is a classical musician.
To help you out, we've curated a list of the most romantic ways to pop the big question to your music-loving companion. Read with caution.
Take quiz: Can we guess your relationship status from your taste in music? >
Find the ideal setting

You can't ask your significant other to be your partner for life in just any location, and we imagine your musical other half has high standards.

If they don't approve of where you pop the question, or the accompanying music, it could be publicly embarrassing – and rather painful. Ukulele. Ouch.

via GIPHY

Set the scene

Just make sure – unlike this couple – that if there are candles involved, their prized wooden instrument is *very* far away.

Candles proposal.

Picture: Getty

Make it a grand gesture

Flamboyant, exuberant and ultra-talented – does this pretty much describe your muso soulmate?

They'll almost certainly be expecting a grand gesture, so exceed their expectations with a grand, musical-and-lights-filled affair.

Read more: How should you spend Valentine's Day, based on your music tastes? >

88 Piano Keys Control 500,000 Christmas Lights! I Saw Three Ships - The Piano Guys

Dress to impress

There's only one type of attire suitable when proposing to a music aficionado: composer dress.

Yes, you might get a few bewildered looks as you enter a restaurant suited entirely in 18th-century dress – but your loved one deserves nothing less. We recommend some Mozart ruffles teamed with a baroque-style frock coat.

The perfect ring

What's a proposal without the perfect ring?

You know how the song goes – if you like it, then you should have put a kitsch-y, bling-y, treble clef-y ring on it.

Read more: 21 utterly exquisite pieces of classical jewellery >

Silver treble clef musical note ring. Picture: Dreamland Jewelry

Consider an orchestral concert

No pressure, just a low-key affair - symphony orchestra, parents watching on, and several thousand seated in an auditorium following the heart-wrenching question. No wonder he had a slight quiver in his voice. 

Kristine & Billy proposal

Bank up some romantic musical lines

If your beloved muso is a true music-lover, a flirtatious chat-up line or two won't go unnoticed.

How to propose to a classical musician. Picture: Classic FM

Warm them up with some musical puns

A sure-fire way to get a "yes'.

A four-legged surprise

Fact: no one has ever turned down a proposal in which adorable baby animals were involved. Catto in a guitar? Kittens hiding in a grand piano? Nothing is too much for your music-loving partner.

Write an aria and sing your heart out

Is there a better way to perfectly capture the full extent of your all-consuming love than by penning an aria? Put the feelings in your heart on paper, and treat your partner to an impromptu concert about just how great they are.

Whether your singing abilities match those of a soprano, or are usually reserved solely to the shower – it's the thought that counts.

Not sure where to start? We recommend taking inspiration from Purcell's heart-rending Dido's Lament, or perhaps Mozart's Queen of the Night aria, if you're feeling bold...