Daft Punk's 'Get Lucky' in every classical music style is both educational and impressive
21 March 2017, 16:50 | Updated: 21 March 2017, 16:51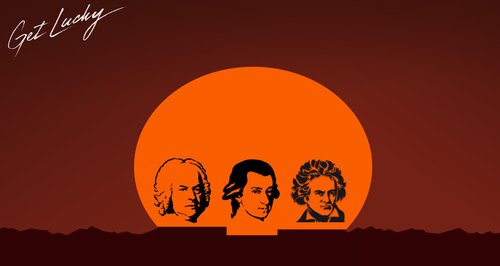 We're up all night to get some perfectly balanced counterpoint.
Whatever your musical tastes, you have to respect Daft Punk and Pharrell Williams's no. 1 hit 'Get Lucky'. It reached the top ten in over 32 countries, sold one million copies in just 69 days and to date as sold more than 9.3 million copies worldwide, making it one of the best selling songs of all time.
So what better example to use for making music history a little more interesting and engage both music discoverers and music enthusiasts alike.

YouTuber Les covers de Persiflette (also known as Thibaut Trosset) has used 'Get Lucky' to create a music history masterpiece. Assembling famous composers in chronological order, his video takes the listener on a musical journey using 'Get Lucky' as a compass. Beginning with Gregorian chant, the 2013 hit is transformed into the styles of Lully, Handel, Bach, Vivaldi, Mozart, Beethoven, Chopin, Brahms, Wagner, Tchaikovsky, Debussy, Satie, Gershwin and even Stravinsky, to name a few. The lyrics of the song are also translated to suit the musical period in languages such as Latin, Italian and French, for example:
Sicut phoenix historia (Like the legend of the phoenix)
Tutto finisce con l'inizio (All ends with beginnings)
For a musical education like no other, you *have* to check out the video below:
For more amazing videos, check out Thibaut's YouTube Channel, Facebook and Twitter.