9-year-old violin prodigy plays Max Richter's thrilling take on Vivaldi 'Summer' in talent show finale
25 January 2023, 14:33 | Updated: 27 January 2023, 09:24
Sora 9 ans joue au violon Summer 1 de Max Richter / Vivaldi - Prodiges 2022 Saison 9 finale
Here's some Vivaldi-Richter violin magic, played by the youngest finalist of French TV talent show 'Prodiges', to blow you away.
In December, 9-year-old violinist Sora Lavorgna made it down to the finals of Prodiges, a French TV talent show judged by cello virtuoso Gautier Capuçon, along with a star opera singer and dancer.
The competition looks for the most promising young talents in three different categories, singing, instrument and dance, all performing to the sound of great works of classical music.
In her final performance, the young French Japanese violinist played contemporary classical composer Max Richter's recomposition and reinterpretation of the talent show favourite 'Summer' from Vivaldi's collection of Baroque concertos The Four Seasons.
'Summer 1' is all intricate ostinato and soaring solo violin lines, making it the perfect showpiece for any high-stakes competition final. Sora gave a stunning performance, displaying a warm vibrato and tone, and incredible musicianship for a player of her age.
During the competition, which also saw her play the Tchaikovsky Violin Concerto, Capuçon told her: "You impressed us, you show incredible concentration and determination for your nine years."
Read more: 5-year-old Italian piano prodigy plays astonishing Mozart for competition audience
Sora joue le Concerto pour violon de Tchaïkovski - Prodiges 2022 Saison 9 1/2 finale de Noël
Prodiges showcases 15 virtuosos aged nine to 16, whose performances are all accompanied by the Divertimento orchestra, under the baton of conductor Zahia Ziouani.
The jury is made up of three leading musical figures: Capuçon, prima ballerina and choreographer Marie-Claude Pietragalla, and soprano Julie Fuchs.
For this ninth season of Prodiges, hosted by Faustine Bollaert, the final trophy was taken by 12-year-old ballet dancer Sacha, who also won the study grant of 10,000 euros. Sacha was told by Pietragalla: "You are dance-incarnate, you make me want to go dancing. You are beautiful, radiant, you have beautiful footwork, I would like to follow you."
Read more: Six-year-old prodigy plays beautiful Chopin waltz on airport piano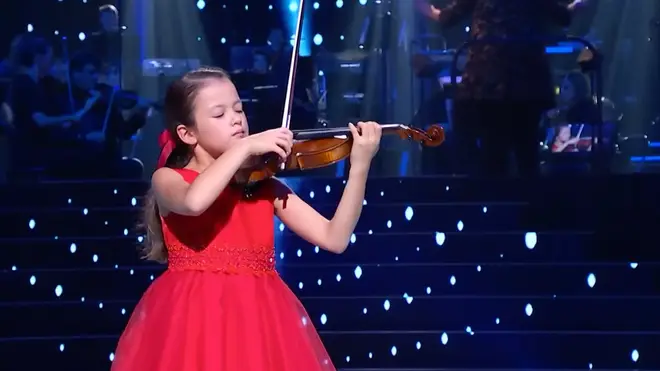 Sora, who at nine years old was the youngest contestant in the entire competition, began playing the violin at age four at the Cannes Conservatory.
During the show, she explained that she practises the violin two hours a day and prior to Prodiges, had won the prestigious Arthur Grumiaux International Violin Competition in Belgium.
We look forward to seeing what else is in store for this brilliant young player.
Prodiges has not only put classical music front and centre on a major French TV channel, but has also produced some stars of the future and major recording contracts.
The debut album of violin and cello star Camille Berthollet, the 2014 winner of the show, went gold on Warner Classics in less than two months. She has since released six string duo albums alongside her sister, Julie Berthollet, with whom she also performed at Classic FM Live in 2021.
Want to see Vivaldi or Max Richter in the Top 300 of the Classic FM Hall of Fame 2023? Cast your votes here and be entered into our prize draw.