Soloist barred from flight – after Ryanair claimed 18th-century violin 'too big' for the plane
21 September 2023, 11:52 | Updated: 21 September 2023, 12:02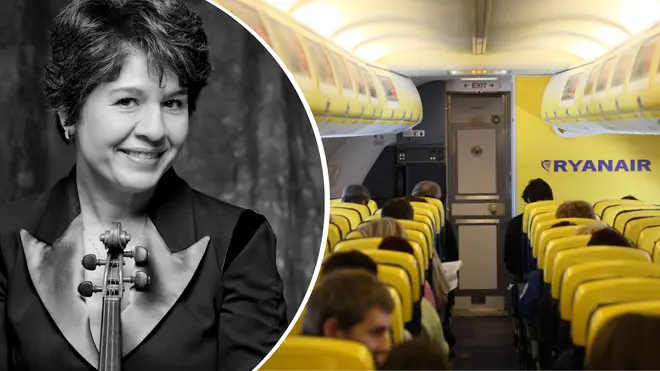 Romanian-born violinist Mihaela Martin claims airline staff said her violin, a Guadagnini dating from 1748, was "too big to take onboard."
A leading violinist claims she was denied boarding by Ryanair after being told her violin was too large to take on board.
Mihaela Martin, a Romanian-born soloist who plays in a string quartet with Michael Barenboim, was travelling from the capital, Bucharest, when she was prevented from boarding her flight.
Martin said she had booked her musical instrument, a 1748 Guadagnini violin, as cabin baggage, but was told by staff that she "should have checked it in" as it was too large to take onboard.
"I explained that violins are never checked in and offered to buy [one] more ticket," she added.
Martin claims the air host told her that "violins are never taken onboard" and that he would "be sacked if he doesn't go by the book."
Ryanair's musical instrument policy states that violins, cellos and guitars that "exceed cabin baggage requirements" can be carried in the cabin "if a seat for it has been reserved and the appropriate fare paid."
It is unclear whether Martin's instrument exceeded the requirements. Classic FM has contacted Ryanair for comment.
Read more: Ryanair passenger films baggage handler 'slamming' his musical instruments onto airport luggage belt
Kodály: Duo for Violin & Cello, Op. 7: III | Mihaela Martin & Frans Helmersson
After being denied boarding, Martin stayed for one more night in the Romanian capital.
"So one more night in Bucharest where luckily they kept my room at the hotel," she added in her Facebook post. "Now I have to search [the] internet for a flight tomorrow.
"Never ever again," she concluded.
Martin performs prolifically across Europe, giving performances with the Bucharest Philharmonic and Staatsorchester Hamburg and featuring at the Verbier Festival and Budapest Academy Festival this season.
A member of the leading Michelangelo String Quartet, Martin has also collaborated in the past with her string quartet colleague's legendary father Daniel Barenboim.
Alongside her concert commitments, Martin is a professor at the University of Music in Cologne, at the Barenboim-Said Academy in Berlin, and at the Kronberg Academy in Germany.
She also gives masterclasses around the world and is on the judging panel for competitions including Belgium's Queen Elisabeth International Music Competition, Romania's George Enescu International Competition, and the International Tchaikovsky Competition.