Outrage as Moldovan authorities fail to return violinist's €2 million Guadagnini confiscated at airport
20 December 2021, 12:39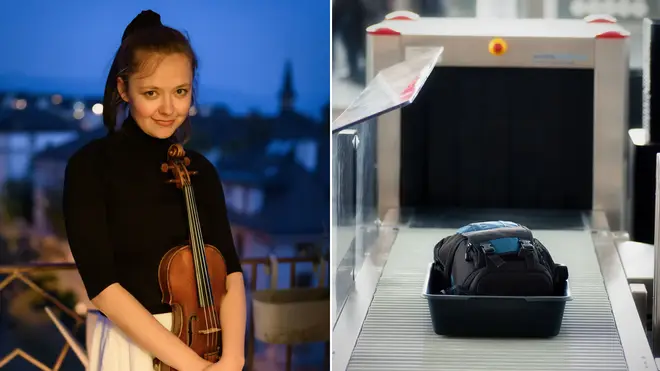 A top international violinist had her instrument seized at a Moldovan airport as she was travelling to Russia, on suspicion of smuggling.
Moldovan violinist Alexandra Conunova has created a petition demanding the return of her Guadagnini violin, which authorities seized at Chisinau Airport in October.
Conunova was travelling from her native country of Moldova to a concert in Moscow, when her violin was taken. Moldova's culture minister Sergiu Prodan apologised at the time of the incident, but the violin has remained in the hands of the authorities.
Conunova said in a social media post that for the past two months, she has experienced severe disruption to her professional and personal life: "I am very worried, during this time not only did I miss concerts, I had to change my schedule, neglect my child, rent another violin".
The €2 million Guadagnini violin is on loan to the prize-winning violinist from the Swiss violin master Cedric Berger. The violin was made in around 1785 by the Italian luthier Giovanni Battista Guadagnini, who is considered to be one of the finest craftsmen of string instruments in history.
More than 2,000 people have now signed Conunova's petition, in which she explains how her violin came to be seized.
"When checking the passport issued by the luthier, I discovered an erroneously written statement, on the luthier's own initiative, that the Guadagnini violin [...] would represent historical and cultural value for Rep. Moldova, which is a fake," Conunova explains.
Read more: Music teacher's rare $100k instruments stolen while she was sleeping
She continues: "I presented to the customs officers the digital contract for the use of the instrument, concluded between me and the owner of the violin, based on which I always traveled with the violin, which  was not credible enough for our customs service, so they asked me for the original, translated and notarised.
"Due to that erroneous mention, the violin was sealed and seized by the customs service and a criminal case was initiated on my behalf for attempted smuggling."
An investigation into whether Conunova's violin documents were legal was launched in October. At the time, Prodan told local television channel, TVR Moldova, that while authorities had "no reason to doubt that Alexandra does not own this violin absolutely legally, this must be proven by the appropriate documents."
Conunova said the ordeal has affected her mental health and psychological state. "So after all this, a series of baseless investigations follow, which upset my life and professional activity!"
The violin, which is named 'Ida Levin', remains locked in a safe deposit at the Moldovan Customs Services, while authorities confer with experts to determine the exact period the violin was made in.
In a new post on Instagram, Conunova says she will be travelling to Moldova on the week of 20 December in order to present the remaining documents to the prosecutor – in the hope, she says, "that my biggest Xmas present this year, will be holding my Guadagnini in my hands again!"
Conunova is an international prize-winning soloist, currently residing in Switzerland. In 2012 she won joint first prize at the Joseph Joachim International Violin Competition, and she has won other international awards at music festivals in Moscow, Bucharest, London, and Singapore.
She released an album of music by Italian Baroque composer Vivaldi last year, which is available across all streaming sites.