19 steps to becoming an absolutely kick-ass violinist
9 August 2018, 14:34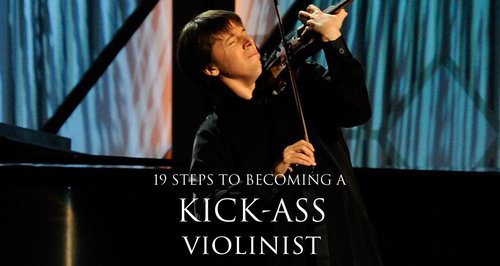 Whether you aspire to be a violin virtuoso or the almighty leader of the orchestra, our handy cheat-sheet will save you years of hard work.
So you've decided you want to be a violinist? Congratulations! Some people might say that the hard part's over. Those people would be wrong.
So you want to be like this:
These are the steps to vicious violin virtuosity...
1. Firstly, you've got to nail the look
You may think being a classical musician is all tailcoats and bow-ties. Think again. Some of the biggest names in the violin world are breaking tradition and going for the more laid-back-look. Copy the likes of Nigel Kennedy, David Garrett and Nemanja Radulovic by having extremely flamboyant hair or adding a vintage scarf to your classic t-shirt and jeans ensemble and you're all set.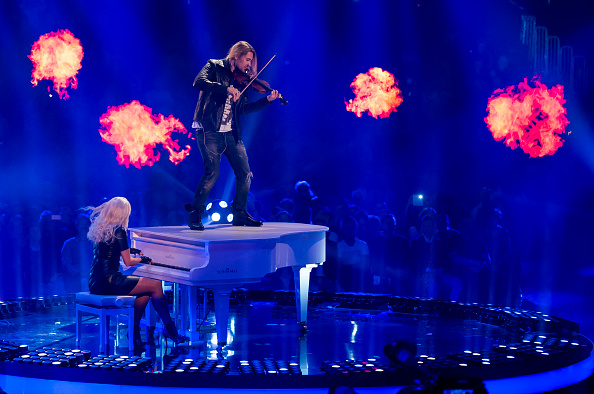 2. Choose your weapon
You've basically got two options - the classic look or the futuristic look. If you've got a spare $16 million lying around, you could buy the bragging rights to the most expensive violin in the world, considered to be the only Stradivarius in existence in its as-new state. Alternatively, you could pop to your local Argos and buy a violin pack, complete with a bow, for £49.99 - bargain!
3. "Accessories are important and becoming more and more important every day." Giorgio Armani
All the gear and no idea. Complete your style with a case covered in tour stickers (people will automatically think you're an expert and well travelled = extra authenticity points) and of course your trusty right hand man/woman - your bow. Be consistent with the rustic trend and have a few stray horse hairs hanging from it if you can.
OK, OK, we said a few...
Now you look the part, it's time to actually pick up your instrument.
4. First of all, your violin will need tuning
"What do you mean it doesn't come ready-to-use?" Yes, sadly no matter how carefully you look after your violin case, you'll always need to re-tune your violin before practising.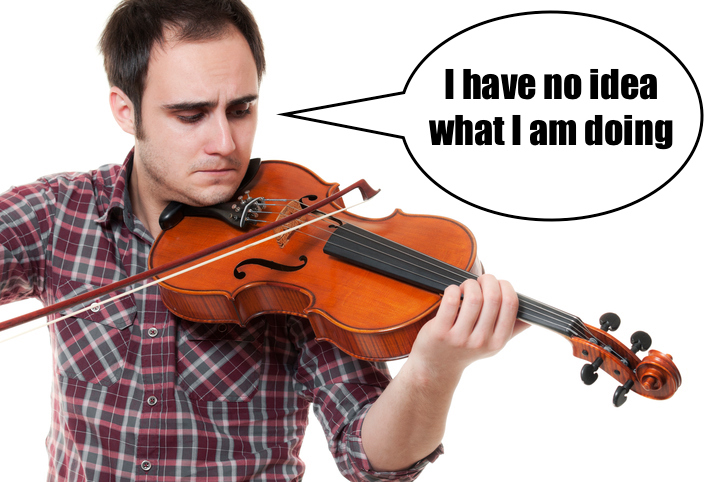 This is made even worse when there are 15-20 of you trying to do it at once. *90 seconds of apparent tuning, AKA screeching*
5. Improve your ninja string-replacement skills
You'll thank us later.
Alternatively, have a second violin to hand (if you can afford it).
6. Accept you will soon be using the remainder of your life savings that you didn't spend on your instrument on massages for your neck cramp.
And also make-up to cover the bruising on your neck.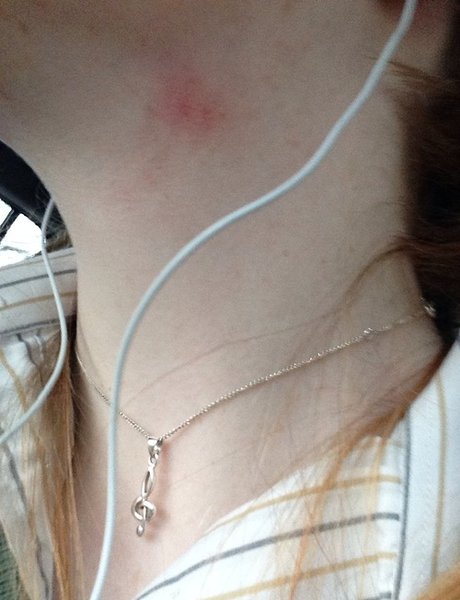 (via tumblr)
Is that a love-bite? A weird rash?! Oh. No. You're a violinist. (See some of the other worst things about playing the violin here.)
7. Quickly discover there are no set 'notes' like a piano or guitar
Unlike your case, which you can cover with cool stickers, you have to cover your pristine pride and joy with childish dots.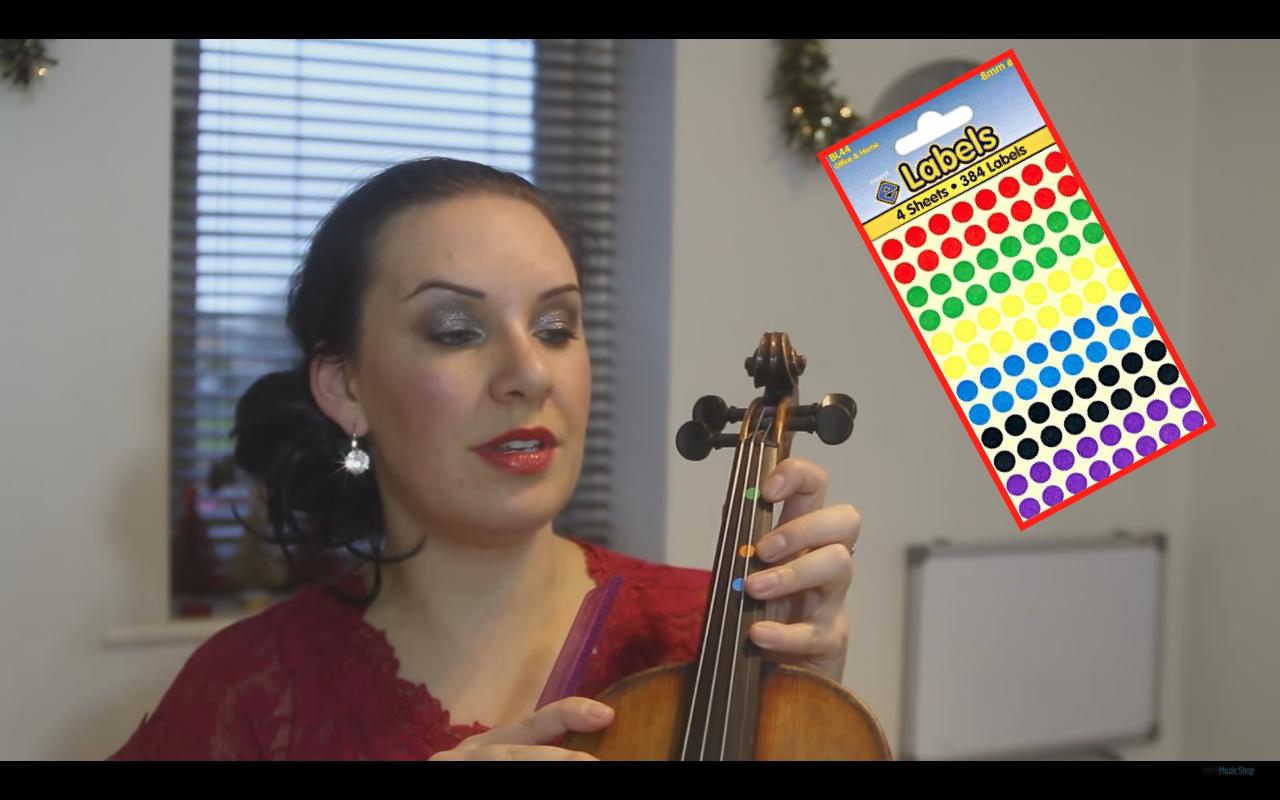 8. Give yourself a huge pat on the back when you give your first recital of 'Twinkle Twinkle Little Star'
You have overcome the biggest hurdle. Well done. You are truly amazing. Nothing can stop you now. This is it.
You will also never be able to enjoy this song again.
9. Lock yourself in a practice room. And practice.
It's pretty painful at first.
10. Make sure whenever you venture out of your practice room for coffee and snacks, you tell everyone how hard you're practicing
It's important everyone knows you do more work than anybody else. And this is why you are so great.
11. Practise some more
Seriously. It never ends. NEVER.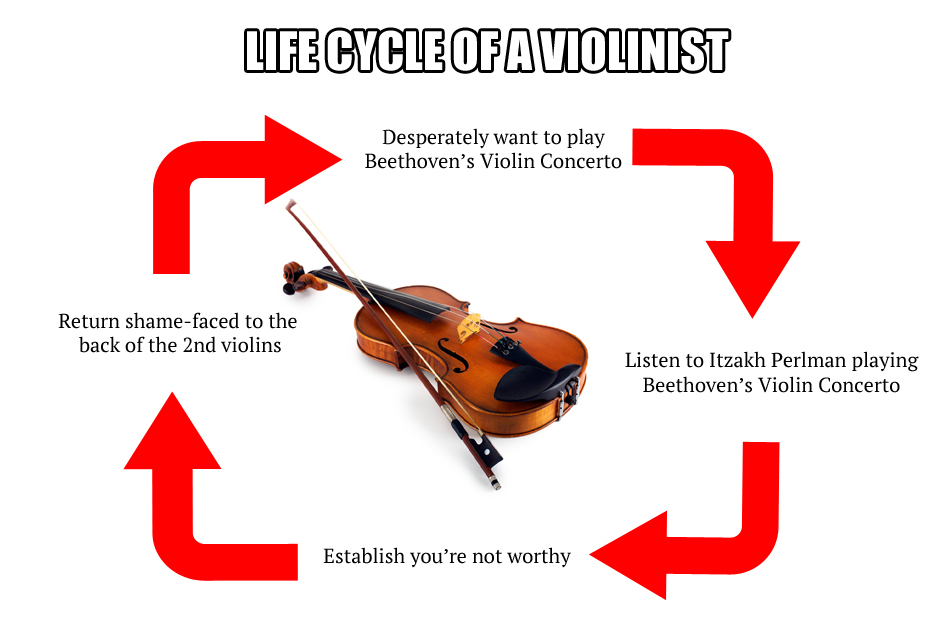 12. Don't let anybody, we repeat, ANYBODY persuade you to switch to the viola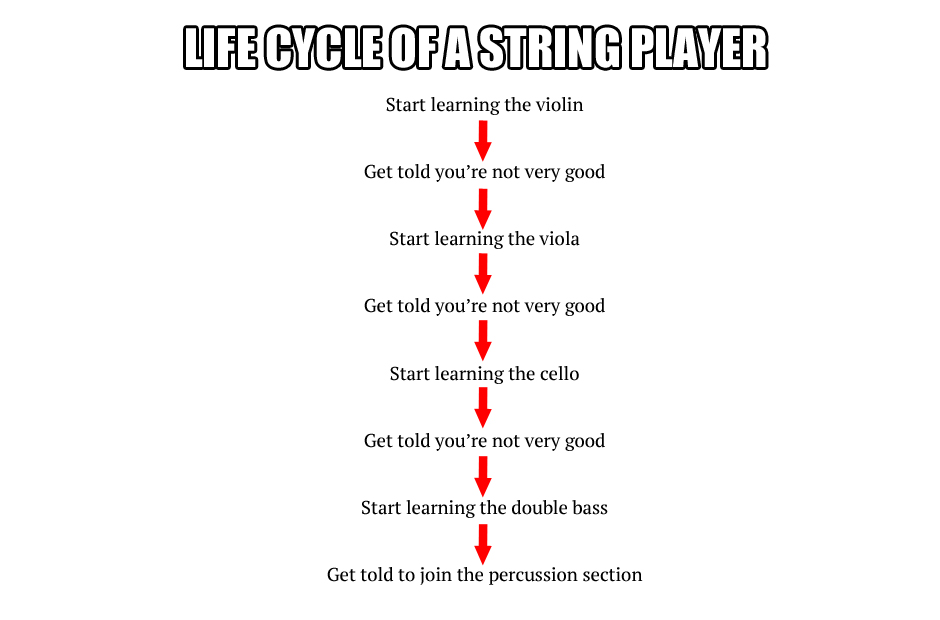 (See our other musician life cycles here.)
13. Keep practising
Socialising? What is that?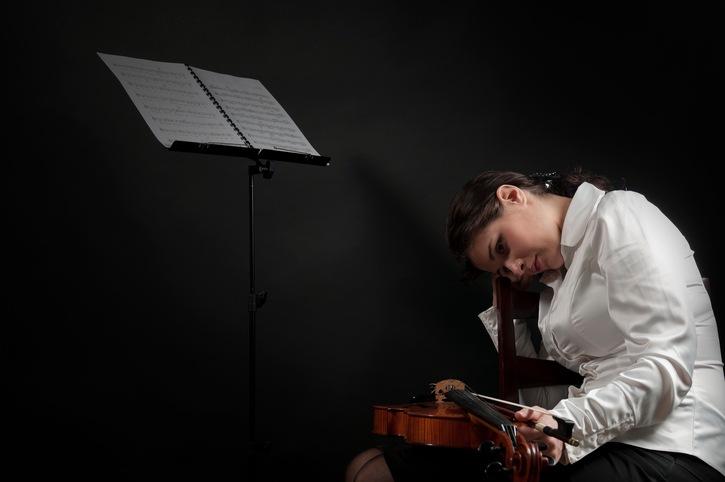 14. When leaving the practice rooms, always appear to be in a hurry
Everyone needs to think you're late (because you've been practising so hard, obviously) for your next solo recital, symphony orchestra rehearsal, chamber ensemble meeting, string quartet concert etc.
Optional but useful extras:
15. Remember – you're the boss
Conductors like to think they're the boss. They're wrong.
16. Master the following:
Over-the-top gestures (remember to hold on tight!)
Alarming facial expressions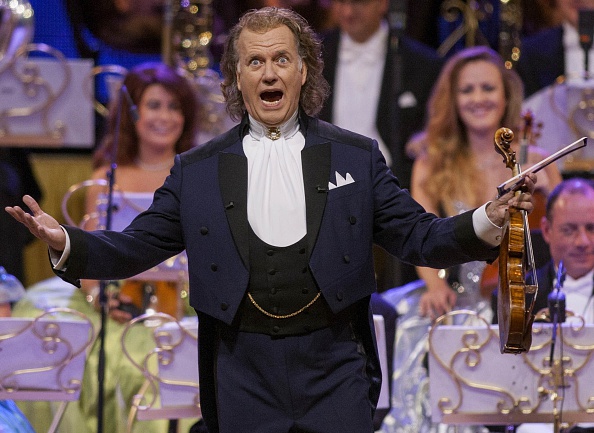 Dancing while playing:
Pyrotechnics: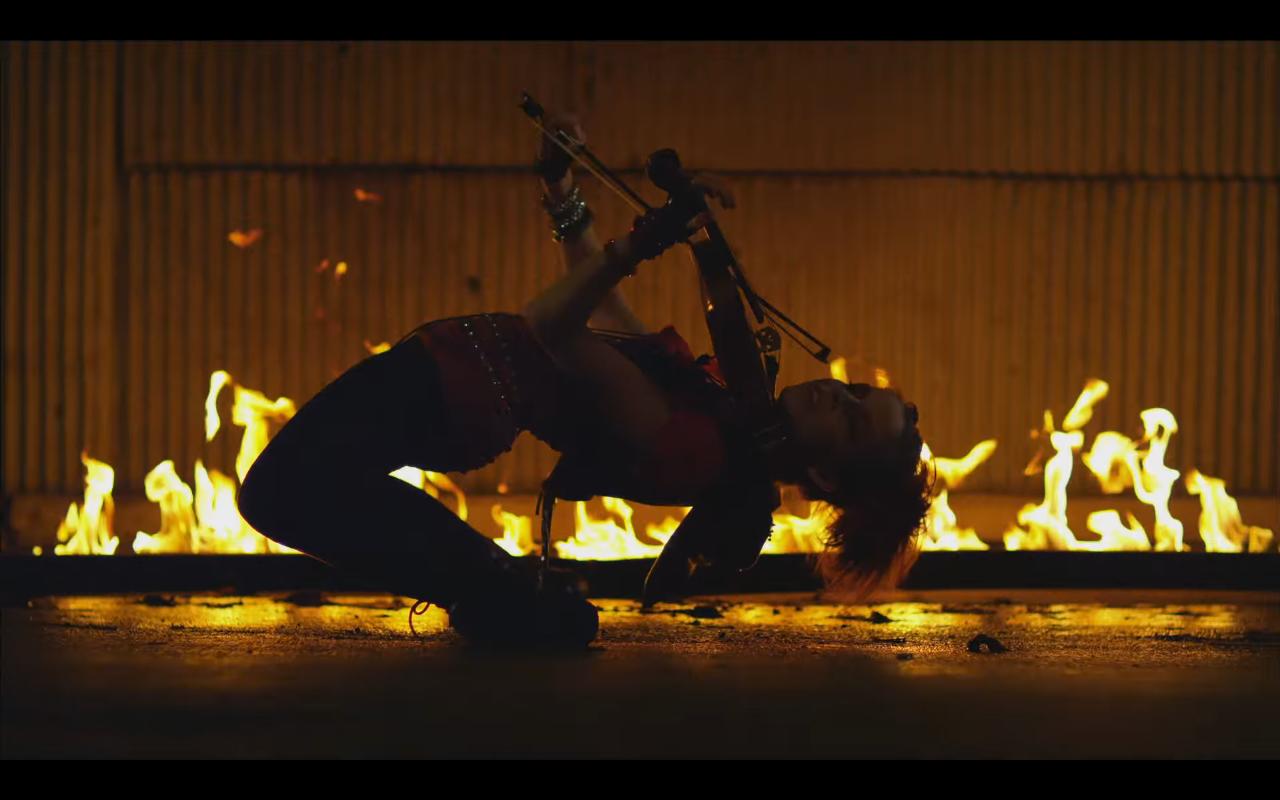 17. Practise your catwalk
In preparation for when you undoubtedly become concertmaster, you need to be able to strut your stuff onto the stage, in full confidence knowing how fantastic you are.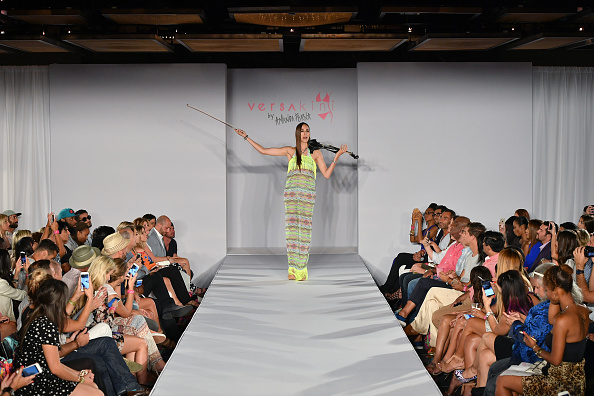 18. Don't forget to bow.
The audience love you. Milk it. This is your moment.
19. Learn viola jokes
As a violinist, you've got to assert your authority as the most important member of your orchestra or ensemble, and make sure everybody knows you're the leader. The best way to do this is by ridiculing other inferior instruments. Pick out the weak from the strong. Violas are easy pray. They wish they were you.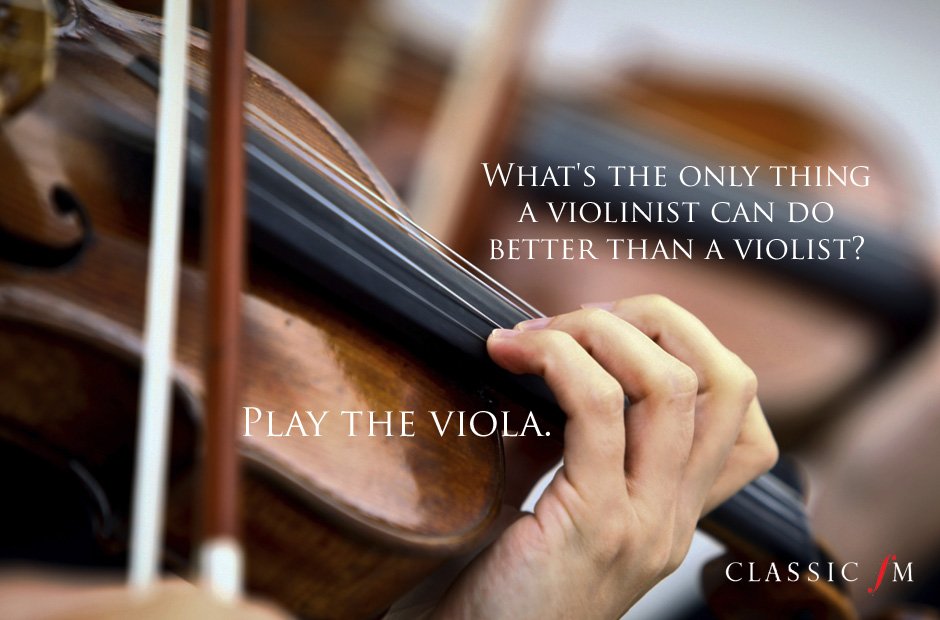 (We have a selection of eleven other viola jokes here.)