This 15-year-old's searing Rachmaninov just won him the 2023 Cliburn Junior Piano Competition
20 June 2023, 21:19
Seokyoung Hong plays Rachmaninov with Dallas Symphony Orchestra and conductor Valentina Peleggi
15-year-old Seokyoung Hong from South Korea took the honours after an unforgettable performance with the Dallas Symphony Orchestra.
A new piano star has been born, with the winner of the Cliburn International Junior Piano Competition 2023 announced, following outstanding concerto performances in the final round.
The final round of the competition took place last Saturday, featuring the Dallas Symphony Orchestra and conductor Valentina Peleggi, at the Morton H. Meyerson Symphony Center in downtown Dallas, in Texas.
It was won by 15-year-old Seokyoung Hong from South Korea, who gave a blistering performance of one of the most technically and musically challenging works, Rachmaninov's Rhapsody on a Theme of Paganini.
Watch the final climax of his astonishing performance above. The teen's playing is full of fire, intensity and musical precision. We also have to give a special mention to that spectacular double-octave glissando near the end.
Read more: Youngest ever Van Cliburn winner moved Marin Alsop to tears with this rapturous Rachmaninov
The competition's second prize was won by 14-year-old Chinese pianist Yifan Wu. In third place was Czechia's Jan Schulmeister, aged 16.
All finalists were awarded cash prizes and scholarships, and Hong also won the Audience Award.
The Cliburn International Junior Piano Competition and Festival was established in 2015 with the hope of supporting and encouraging outstanding pianists aged 13 to 17. It sits alongside the famed quadrennial Van Cliburn International Piano Competition.
Hong is in very good company at the Cliburn. Over recent years there has been an incredible record for South Korean virtuosos at the organisation's main competition. In 2017, Yekwon Sunwoo won the gold medal, and then in 2022, Yunchan Lim became the youngest-ever winner with a now legendary performance of Rachmaninov's Piano Concerto No. 3.
Read more: Why 'All By Myself' sounds uncannily like Rachmaninov's Piano Concerto No.2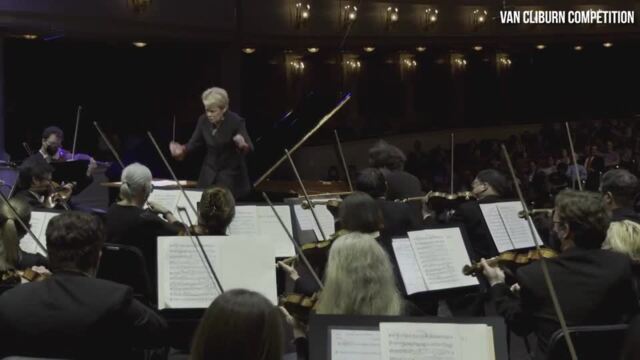 Yunchan Lim performs Rachmaninov Piano Concerto No.3 for the Cliburn Competition
Lim's performance in the 2022 competition final reduced legendary conductor Marin Alsop to tears on the podium, and is now a fabled moment in the career of one of classical music's biggest rising stars.
But Seokyoung Hong is the junior winner of the hour. He began his piano studies in Seoul, before moving to Boston. With so much young talent out there, the performance from this weekend suggests that he too is a very special one to watch.