Food delivery cyclist surprises locals with impromptu piano performance
15 April 2020, 16:14 | Updated: 15 April 2020, 16:16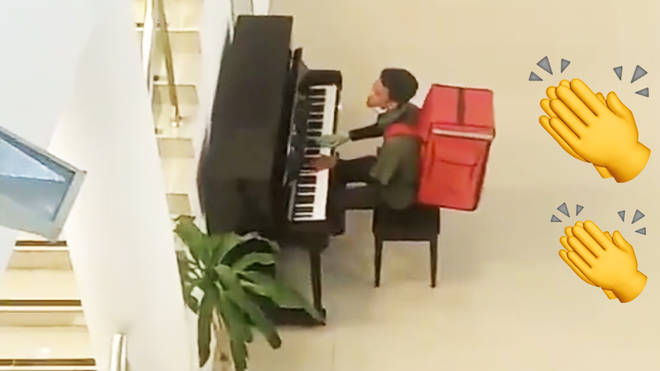 When your customers are late to collect their satay, play beautiful music...
A food delivery cyclist from Malaysia has impressed locals with his piano skills after giving an impromptu performance in the lobby of a popular arts venue.
The musical driver, Amirullah, had been waiting for his customer to collect an order in Kuala Lumpur's International Youth Centre when he spotted the musical instrument.
Taking a seat at the piano – with his giant thermal food delivery bag still strapped to his back – Amirullah is seen enjoying a few quiet moments playing beautiful music:
But little does he know that his mini recital, which includes a classical cover of Camilla Cabello's hit pop song, 'Havana', is being recorded by a captivated listener.
Since Amirullah's new fan, Izat Yuan, shared the musical clips on Twitter last week, along with the words "Good job, brother", the videos have already gone viral and received more than two million views.
Impressed by his ability to trade hot dinners for dynamics, one Twitter user commented:
Years of lessons and I amounted to nothing.... this guy learns from YouTube and can play Havana with flair! ❤️👏🏼

— Rezazurien (@rezazurien) April 12, 2020
Another Twitter user, Kukushka, said: "Listening to this, I must say it is amazing. Every note transition is on point. Bravo, bro."
After being made aware of the clips, Amirullah admits he has never had a piano lesson, instead picking up his skills by watching tutorials on YouTube.
Touched by his music, Twitter user OrangMelaka reminds others to always be kind: "Moral of the story: Never underestimate people. Whether a garbage man or a janitor – we never know what special talents they may have."