'Baby Shark', but it's played by two organists in Washington Cathedral
23 October 2019, 16:51
It was the viral hit of 2018… and now 'Baby Shark' is ringing out in Washington Cathedral for all to hear.
A moment of musical madness genius took place this month in Washington National Cathedral in the US, as two organists turned 'Baby Shark' into a glorious organ symphony.
Tired of the song's original synthetic accompaniment, Tom Sheehan and George Fergus decided to arrange the viral hit for four hands on the great instrument.
From that tense, repeated semi-tone interval on the lowest pedals to the main melody on the top keyboard, 'Baby Shark' resonates around Washington National Cathedral for all to hear.
Hats off to Sheehan and Fergus for their rather wonderful blend of the old and the new.
Read more: Dvořák's Symphony No. 9 is the power behind viral hit Baby Shark >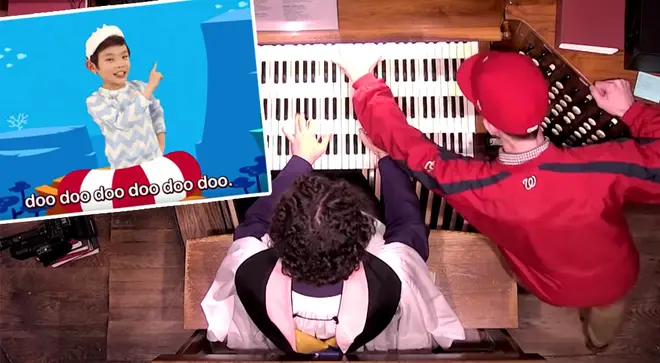 Although 'Baby Shark' has been around for a while longer, it went viral last year and has now racked up over 3.7 billion views on YouTube.
For the bat-eared classical music fans among you, you might have noticed that the hit opens with the same repeated semi-tone interval you hear in the opening of Dvořák's Symphony No. 9 'From the New World' – which means that every time a child listens to 'Baby Shark', they're also listening to our old friend Dvořák...