Precisely why Glyndebourne is one of the most magical musical places in the world
7 August 2019, 15:57 | Updated: 8 August 2019, 13:12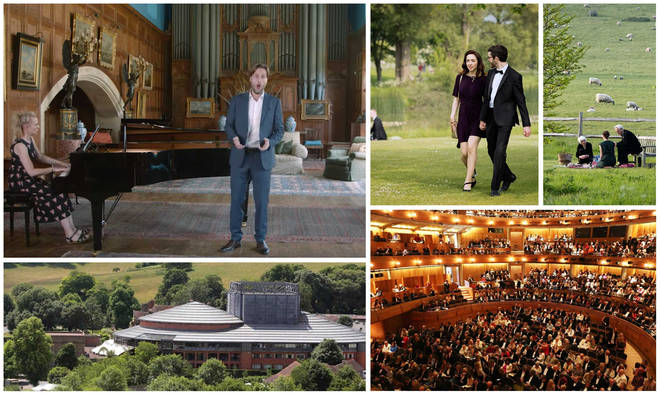 A musical summer is never complete without a trip to some country house opera in the beautiful South Downs.
Put on your best frock, pour yourself a glass of something sparkling, and enjoy the English sunshine (we're always hopeful), all between acts of a fantastic opera. What a great way to get your dose of summer culture.
Glyndebourne operas always feature the world's finest singers and orchestras. 2019 has featured top singers like Brindley Sherratt, Danielle de Niese, Sally Matthews and Allan Clayton, with resident orchestras of the London Philharmonic Orchestra and the Orchestra of the Age of Enlightenment.
You can also expect some fantastic sets and productions, and maybe even a breakdancing countertenor...
What do I wear to Glyndebourne?
The Glyndebourne Opera Festival has a tradition of dressing up and getting your bow-ties and ballgowns out into the country air. You'll always find people having fun with lots of individual flourish and style. And don't forget your sunnies.
The Glyndebourne website says, "Today our audiences enjoy combining the thrill of dressing up with the chance to be different for a day. We love to see formal or vintage attire or the height of contemporary."
So there's opportunity to wear black tie or similar, but the important thing is the emphasis is always on having fun and making it a special occasion. Glyndebourne is less formal on tour.
A picnic on the lawn is traditional and, to be quite honest, one of the finest things in the world, so cram that picnic hamper full of smoked salmon and mini sausage rolls, and let rip.
Later in the autumn, Glyndebourne Tour begins, at the opera house and around the country. Here some people still like dress up, but it's not quite as formal as during the summer.
How did Glyndebourne start and what is the Organ Room?
The Organ Room is a very special place – and was where the tradition of opera at Glyndebourne began. Landowner and opera-lover, John Christie, and his wife, Canadian soprano Audrey Mildmay, started putting on musical performances and small operas in this room of their home.
As the popularity of these occasions grew, they built an opera house next door and the Glyndebourne Opera Festival was born. It's still in the same family; his grandson Gus Christie runs the festival and lives on-site with his family.
Over the past few months, Classic FM and Glyndebourne have been filming arias in this historic room, including this from Gus Christie's wife and opera star, soprano Danielle de Niese and some thundering Wagner from star baritone Björn Bürger.
What can I see?
The main annual event is the opera festival, which runs from May to August. In 2019 you can still catch Handel's Rinaldo, Dvorák's Rusalka and Mozart's The Magic Flute.
And during the main festival, if you're lucky enough to be aged under 30, you can pop on your glad rags and catch a full show for £30. Not bad.
And FYI, there's not really a bad seat in the opera house, you always get a great view and feel right in the middle of the action.
What is the difference between Glyndebourne and the Glyndebourne Tour?
In the autumn, Glyndeboune Tour begins at the opera house but then continues around the country, from Canterbury and Norwich, to Liverpool, Milton Keynes and Woking.
Visit glyndebourne.com to find out more.