My Best Friend's Wedding actor Dermot Mulroney also plays the cello – and we're blown away
14 August 2019, 17:31 | Updated: 14 August 2019, 17:39
We have made an important discovery: Dermot Mulroney, the handsome lead from My Best Friend's Wedding and Gavin Mitchell from Friends, can play the cello (and quite well, too).
Dermot Mulroney, AKA everyone's favourite nineties and naughties heartthrob (still not over Rachel ditching him in Friends – thanks a lot, Ross), is an established rom-com actor.
But did you know he's also an accomplished cellist, who plays on 2006's Mission: Impossible III score, no less?
"I'm an expert cellist, of all the most bizarre things you can think of," he quipped on the TODAY show (check him out playing Bach with American cellist Dale Henderson in the video above).
He also played world-renowned cellist Andrew Walsh in Mozart in the Jungle, has played with the Boston Pops orchestra and can be heard in Michael Giacchino's Rogue One: A Star Wars Story score. "If you can hear the 11th cellist in the back of the section, that's me," he said.
Mulroney and Giacchino first met at the premiere of the 2005 romantic comedy The Family Stone, scored by Giacchino and starring Mulroney.
The composer, upon discovering Mulroney's talent, invited him to play on the Mission: Impossible III score – and he's played on almost all his movie scores ever since, including Mission: Impossible – Ghost Protocol and Star Trek into the Darkness.
"Obviously, I knew about orchestras, I knew how to play in one, I knew about scoring orchestras," he told the LA Times.
"But then when I start doing it, it really became a different perspective for me and such a source of pride — but pride related to the fact that I'm included in an exclusive group of musicians… really just towering talent. I'm more of a journeyman player."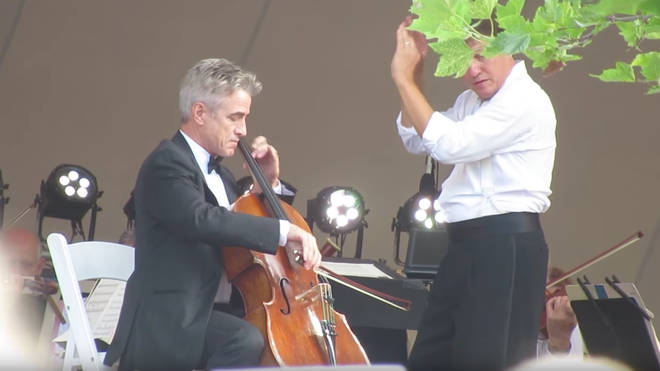 The 52-year-old actor, who took up the cello aged seven, played in the US National Symphony Orchestra as a teenager, and won several solo competitions. He went on to play with the Northwest University orchestra while he was in college.
After his acting career took off, the cello took a back seat – but Mulroney has been returning to his musical roots ever since.
"It's taken me 45 years to be cool with the cello," the actor said. "It's hard, carrying that thing around on the school bus... but now, I'm on the TODAY show, now it's cool."