New Releases: Gareth Malone's Great British Christmas and Barenboim and Batiashvili
27 November 2016, 11:59 | Updated: 6 January 2017, 14:45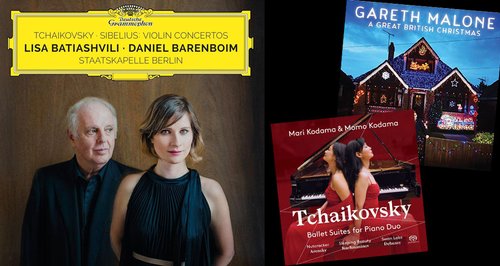 Throughout the week Classic FM's presenters bring you the best new recordings, including world exclusives and premiere broadcasts of latest releases.

John Suchet plays a piece from a new release after 10am every weekday.
A Great British Christmas - Gareth Malone
Decca Classics
"Christmas is a time for being together with family or friends. It's a time for reaching out to those in need and it can be a time to remember those who are no longer with us. At the heart of those moments, music is there to help us make sense of it all.
Early this year I set out to reflect the true soundtrack to Christmas in Britain. I visited community halls, schools, workplaces and people's homes, recording the sounds I heard and weaving them into this album. It's full of personal moments: from my first-ever publicly performed teenage composition to a song written last year in response to the ongoing refugee crisis and a song recorded in the shed at the bottom of my garden.
You will know many of the songs but they have been reimagined for my choir 'Voices' and this extraordinary line-up of British musicians both professional and amateur. From Glasgow to Cornwall, Cardiff to Belfast I found a tapestry of musical delights with bell ringers, brass bands, community choirs, children's voices and some of my musical friends as soloists. I wish you a very happy Christmas and all the joy that music can bring." - Gareth Malone

John Brunning plays pieces from a new release after 6pm every weekday.
Tchaikovsky Ballet Suites - Kodama sisters
PENTATONE
Together for the first time in the recording studio, the sisters Mari and Momo Kodama are on scintillating form in these lively arrangements of music from Tchaikovskys ballets Swan Lake, Sleeping Beauty and Nutcracker. In another first, the release contains the first ever recording of Arenskys transcription of the timeless Nutcracker together with notable arrangements by Debussy and Rachmaninov.
Tchaikovsky was really the first composer to combine a broad sweep of ballet music with a great story, the Kodama sisters write in their introduction to the release, before that, it more resembled a compilation of pieces in all three works there is folkloric and popular music. He has the great skill to make such vivid colours and textures on a large canvas. This makes his orchestral works very special. Our challenge was to use just two pianos to bring the same sense of scale, they write, with just two pianos the atmosphere is more intimate, it brings a different quality to the music. And the composers who made the transcriptions brought their own personality to bear on the works. So we tried to reflect that in our playing.
The sisters Mari and Momo Kodama both pursue busy international careers. Momo specialises in French and Japanese composers and 20th century and contemporary composers; she has been widely praised for her attractive, lyrical tone and technical brilliance. Mari has established an international reputation for profound musicality and articulate virtuosity; she has recorded extensively for PENATONE, including an acclaimed cycle of the complete Beethoven piano sonatas.

Critic's Choice
On My New Piano - Daniel Barenboim
Deutsche Grammophon
Once you get by the rather gauche title, which grates on me every time I see it, this is an exceptional recital.
Barenboim is, of course, these days primarily a conductor, and there have been times when his piano playing has been less than top class. As, for instance, a recent visit to London, when he played the two Brahms Piano Concertos really not very well.
Watch: Barenboim unveils his new piano >
But everything here, in this mixed bag from Scarlatti to Liszt is terrific. It's a recital to sit down and enjoy at a single sitting. The three Scarlatti sonatas, chosen from the many dozen available, have wonderful bounce and verve, and, thanks to the composer, some exceptional melodic content. Those who sniff at baroque music on the grand piano are made to look foolish by Barenboim's brilliance.
I also enjoyed Liszt's Funérailles, and the same composer's arrangement of music from the end of Parsifal.
Only the little set of Beethoven variations – a strong candidate for the least distinguished music Beethoven ever wrote – require some effort to enjoy, but otherwise, this is a real winner for any pianophiles.
Tchaikovsky/Sibelius Violin Concertos - Lisa Batiashvili/ Daniel Barenboim / Berlin Staatskapelle
Deutsche Grammophon
I heard Batiashvili and Barenboim play the Tchaikovsky in a London concert 18 months ago, and wasn't that impressed. But they sound fine here, especially in the first movement of the Tchaikovsky.
Batiashvili does not banish memories of great violinists of a previous generation, who made the Tchaikovsky their party piece, notably Jascha Heifetz and David Oistrakh. Or indeed, amongst women players, Ginette Neveu in the Sibelius.
But we cannot live in the past, and the reality is, Batiashvili performs these two concertos well enough for perpetuation on CD. Barenboim and his splendid orchestra – arguably better these days than the Berlin Phil - accompany attentively, and DG's recording is first class.
Giving a music lover for Christmas Barenboim the pianist and Barenboim the conductor, will bring much joy. This CD testifies yet again to Barenboim's accomplishment and versatility.
Christopher Simpson: The Four Seasons - The Sirius Viols
Deutsche Harmonia Mundi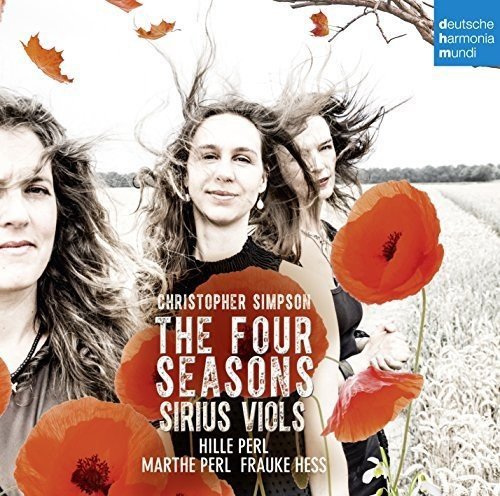 This week's choice from left field is rather an enchanting one, featuring music by the English viol player Christopher Simpson (1605-1669).
He's a new name on me, as is his Four Seasons. Inevitably they are not as distinctive, or melodic, as Vivaldi's, written a century later, but as played by the Sirius Trio, full of good things. Obviously a lot of Simpson's music comes down to us less than fully fleshed out. So what the Sirius trio has done is add in a small backing ensemble of instruments available in 17th-century England, including a small chamber organ.
I am not in any position to judge what Christopher Simpson would have thought of their efforts, but I find this album most engaging.
Schumann: Cello Concerto and Symphony No.2 - Jan Vogler/ Dresden Festival Orchestra/ Ivor Bolton
Sony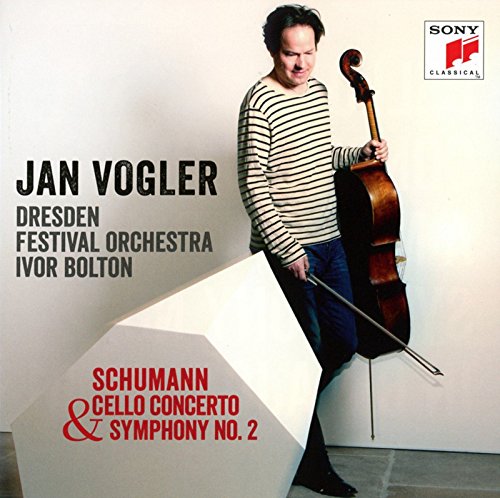 This handy new Sony issue allows collectors to investigate two of Schumann's finest, but least appreciated, works.
The Cello Concerto may not be as good as the celebrated Piano Concerto, but I always thoroughly enjoy it, especially the eloquent slow movement. Jan Vogler plays well, and Ivor Bolton directs a good performance from the Dresden Festival Orchestra, even though their ensemble falls well short of the best that German orchestras can do in this repertoire.
This is even more true of the Second Symphony. But even if they are not the Berlin Philharmonic, this band, founded as recently as 2012, does okay in a piece that includes one of the finest slow movements in any 19th century symphony.
Bargain Box of the Week
Leontyne Price: Prima Donna Assoluta, Her Ultimate Opera Collection Remastered (22CDs)
Sony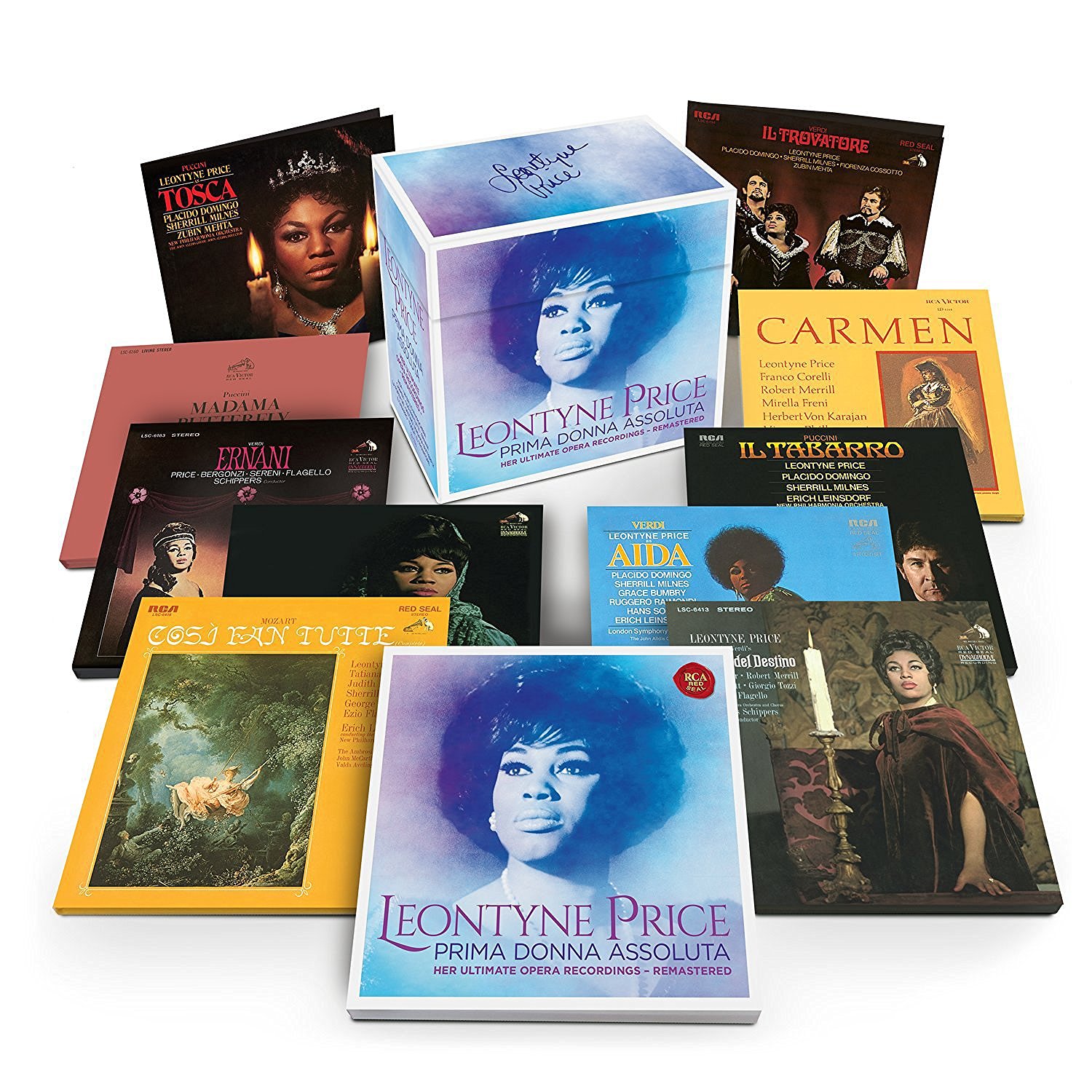 Leontyne Price, who is happily still alive and well in her 80s, was for 30 years one of the finest Verdi/Puccini sopranos. Her voice had amplitude, richness, and, in her absolute prime, a wondrously creamy tone.
She was also a singer of great intelligence, who made the most of roles like Aida because she was also a striking physical presence on stage, which added to her allure, in an era when black sopranos in leading opera houses, especially in America, were a rarity.
The US, much given to lecturing the rest of us on human rights etc, had an appalling record in allowing black artists into major opera houses, like the Met. It was really only after World War 2 that singers like Price were given an equal shake with their white equivalents. Price was therefore a trailblazer, as well as a great artist, and these operas are a fitting tribute to her capabilities.
It's a sign of her stature, and a great help to us as we listen to these CDs, that RCA engaged outstanding conductors to work with her, notably Herbert von Karajan, and also excellent support from other major singers.
Well worth having, though the price - around £80, maybe more, for 22CDs - isn't the greatest bargain I have encountered this year.