John Williams conducts magical 'Harry Potter' in front of illuminated Hogwarts Castle
25 July 2023, 14:17
John Williams conducts 'Harry Potter' with LA Philharmonic at Hogwarts Castle
As Dumbledore tells Harry, "Ah, music. A magic beyond all we do here…"
The film scores of John Williams are some of cinema's greatest. Instantly recognisable, and filled with sweeping orchestral lines and catchy melodies, they have taken on a life beyond the silver screen.
Today, the Oscar-winning composer's music is performed by some of the world's greatest orchestras, including the Vienna Philharmonic, London Symphony Orchestra and LA Philharmonic.
In 2016, Williams was invited to Universal Studios in Los Angeles to lead its internationally acclaimed orchestra through the beloved soundworld of Harry Potter, from the magical 'Hedwig's Theme' to the poignant 'Leaving Hogwarts'.
Watch above as fireworks light up the castle, in time with the music…
Read more: Vote in the Classic FM Movie Music Hall of Fame 2023 for the chance to win a Smart TV or Sony Soundbar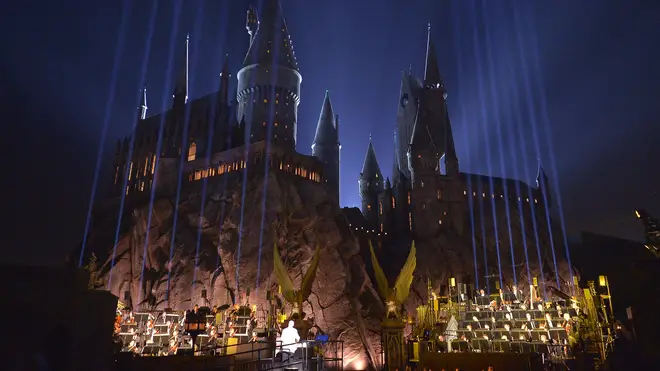 The stunning performance took place at the VIP opening of Hollywood studios' Wizarding World of Harry Potter, where the Hogwarts Castle is the centrepiece.
Williams has taken to the concert stage several times with the LA Philharmonic.
In July, he performed at the Hollywood Bowl with the orchestra's outgoing music director Gustavo Dudamel. The pair shared the podium for three nights of movie music, accompanied by film clips on the big screen.
The now 91-year-old composer, despite hinting at his retirement for summer 2022, still spends much time in his studio.
In January 2023, he admitted that he was working on a new project with long-time collaborator, director Steven Spielberg. "Steven is a lot of things…" he said. "One thing he isn't, is a man you can say no to."