The 10 most romantic opera duets of all time
10 February 2023, 17:36 | Updated: 13 February 2023, 09:42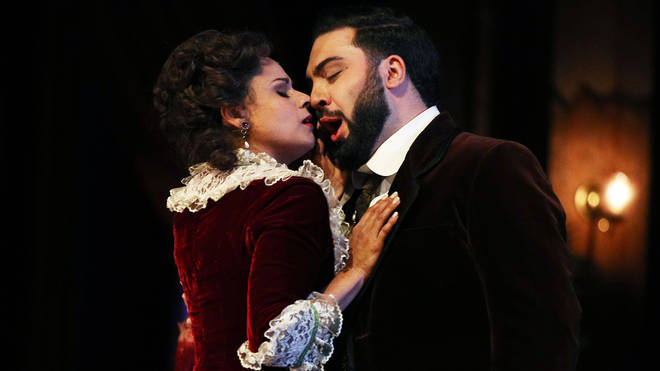 From star-crossed lovers to philandering serial romancers, we pick out some of the greatest romantic duets from the wonderful world of opera.
Some of the world's greatest stories have been told through the medium of opera, from adaptations of existing tales to brand new works for the stage.
Opera librettists and composers are masters of storytelling, with plot twists galore, and tales from deep tragedy to untold joy. But perhaps the emotion they capture best of all, are the thrilling throes of romance.
Here are ten of the most romantic opera duets, ever written.
(And if you're looking for your own duet partner, why not give Classic FM Romance a try?)
Verdi's 'La Traviata' – 'Un dì, felice, eterea'

In the first act of Verdi's La Traviata, a young fellow named Alfredo attends a Parisian party thrown by Violetta, who he harbours a secret adoration for. In a quiet moment together, Alfredo seizes his opportunity to tell Violetta how he feels in a moving operatic verse. Violetta quips back with a hasty but light-hearted rebuttal, but as she continues on, she begins to warm to him. Violetta ends the duet wondering: could allowing herself to fall in love with Alfredo be such a bad thing?

Read more: The 20 greatest operas ever written

Mozart's 'Don Giovanni' – 'Là ci darem la mano'

A charming, cheeky duet between the opera's titular Don Giovanni and a local peasant woman, Zerlina. Don Giovanni, infamous for his romantic exploits and wandering eye, spied Zerlina as she made her way through the town on her marriage procession, having just wed her beloved Masetto. Finding an excuse to get her alone, Don Giovanni turns on his charm and sets to wooing his new conquest.

Puccini's 'La bohème' – 'O soave fanciulla'

Rodolfo and Mimì's duet is the closing number of act one of Puccini's romantic tragedy, La bohème. It's love at first sight for the duo, who have met only minutes before. Over the course of their duet they confess their feelings for one another, as Rodolfo is torn between meeting his friends and staying with Mimì.

After one of the most beautifully heartstring-pulling duets ever written, they decide to leave together, arm in arm.

Read more: Best Puccini operas: the Italian composer's greatest works

Mozart's 'The Magic Flute' – 'Pa, pa, pa'

Towards the end of Mozart's masonic opera, a despairing Papageno finds himself in his darkest hour, fearing he has lost his beloved Papagena forever. Just at the point of contemplating bringing his life to an end, three childlike spirits appear and urge him to halt. Following their guidance he rings a set of magic bells and, lo and behold, Papagena appears. The pair excitedly sing a chirpy duet, dreaming about their future together – a happy ending at last.

Read more: Mozart's famous opera The Magic Flute is about to be transformed into a video game

Donizetti's 'Lucia di Lammermoor' – 'Verranno a te sull' aure'

Forbidden romance across feuding families is a tale as old as time, and makes for perhaps some of the most heart-wrenching romances ever. At the end of the first act in Donizetti's Lucia di Lammermoor, Lucia and her forbidden love Edgardo promise to marry and exchange rings, against the backdrop of Edgardo's ongoing conflict with Lucia's brother, Enrico.

Read more: Soprano sings Donizetti to piglets and it's wonderfully chaotic

Wagner's 'Tristan und Isolde' – 'O sink' hernieder, Nacht der Liebe'

Tristan and Isolde were never supposed to fall in love. Tristan was guilty of murdering Isolde's fiancé, Morold, and escaped execution with an order of banishment. He returns, however, and endeavours to marry Isolde to his uncle, King Marke.

Rather than go along with his plan, Isolde plots to punish Tristan for his betrayal. They both drink from a poisoned chalice, only to discover that Isolde's handmaid Brangäne has substituted the poison for a love potion.

Their romantic duet, 'O sink' hernieder, Nacht der Liebe' arrives in the second act, as they lament the daylight that keeps them apart and relish the night time, when they can be together.

Mozart's 'The Marriage of Figaro' – 'Sull'aria'

A romantic duet, with a twist. In Mozart's opera, the Countess and Susanna sing a romantically-themed duet as they hatch a plan to catch the cheating Count red-handed. They concoct a letter, luring the unsuspecting philanderer into their trap…

Massenet's 'Manon' – 'Toi! Vous!'

Massenet's lusciously romantic duet between Manon and her former lover, le Chevalier des Grieux, arrives in the opera's third act. Having betrayed Des Grieux in the previous act, Manon begs his forgiveness. Des Grieux is initially reluctant and rejects her advances, but when she begins to recall how great their love once was, he softens. Eventually, their voices unite once again in a passionate renewal of their romance.

Verdi's 'Aida' – 'O terra addio'

At the end of Verdi's opera Aida, Radamès has been sealed into the vault inside a pyramid. As he comes to terms with his fate, he discovers his beloved, Aida, has crept in to be with him. The pair sing a heart-wrenching duet as they bid their farewells to the world, and to each other.

Gounod's 'Roméo et Juliette' – 'Nuit d'hyméné'

Gounod's retelling of the world's greatest romantic tragedy features a truly thrilling duet between its two titular characters. The star-crossed lovers meet by moonlight, expressing their love in sweet embrace and fearing their departure come daybreak. It's a beautifully romantic duet, yet Gounod's moving orchestration makes the coming tragedy feel all the more heart-breaking.