This 'Drinking Song' from Verdi's La traviata is a glass of pure musical joy
27 June 2023, 15:09 | Updated: 18 September 2023, 16:14
Vivacious Verdi! The 'Drinking Song' from La traviata | Classic FM Live
Pure musical joy, in a champagne flute. Watch an incredible performance of Verdi's operatic classic, performed at the Royal Albert Hall by two of the greatest singers of today.
Fancy attending a lavish party in a 1850s Paris salon with flowing bubbly and the cream of society? If you missed the real thing, fortunately Verdi set it all to music.
This joyous, much-loved moment of music is a toast, happening in the first act of his opera La traviata. It all begins as Alfredo, a young man, meets Violetta, Verdi's tragic heroine who is a courtesan, admired by many in society.
Alfredo kicks off a toast to the party, honouring beauty, joy and love. Violetta joins and is teasingly dismissive of Alfredo's romantic ideals.
The chorus then completes the exuberant tune, with an iconic climax ending in a high B flat. Fill your glasses, be upstanding, and watch the magic above...
Watch: Opera star's tongue-twisting 'Figaro' aria blows Royal Albert Hall roof off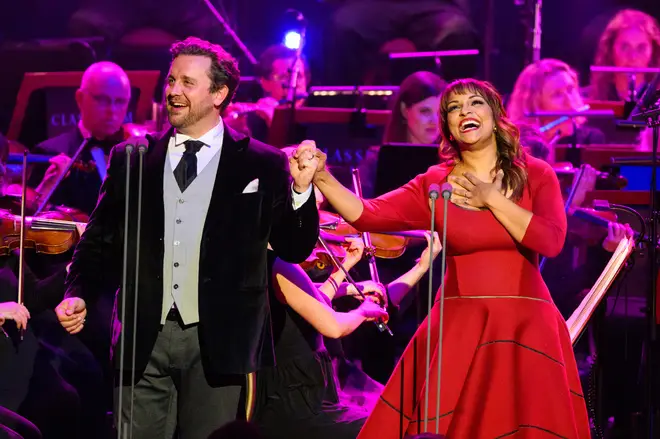 This incredible performance was recorded at an opera-themed Classic FM Live with Viking, at London's iconic Royal Albert Hall. Star American baritenor Michael Spyres was joined by world-renowned operatic soprano Danielle de Niese with the chorus and orchestra of English National Opera and conductor Paul Daniel.
And if that wets your whistle for more opera, you can watch the entire show on Sky Arts.
Verdi's mighty Anvil Chorus raises the Royal Albert Hall roof | Classic FM
What happened to Alfredo and Violetta? Well, it's opera, so as too often there's heartbreak, meddling family and a tragic end. Violetta is one Verdi's most remarkable and complex characters in a redemptive story that stands the test of time. And it also has some of the greatest music ever written for the opera stage, which tugs at the heart for two incredible hours.
But for now, let's not dwell on heartbreak and tragedy. We toast this joyous piece of music and incredible performance. Salute!