Blind 15-year-old pianist Lucy plays enchanting Bach prelude in Royal Albert Hall debut
31 October 2023, 18:00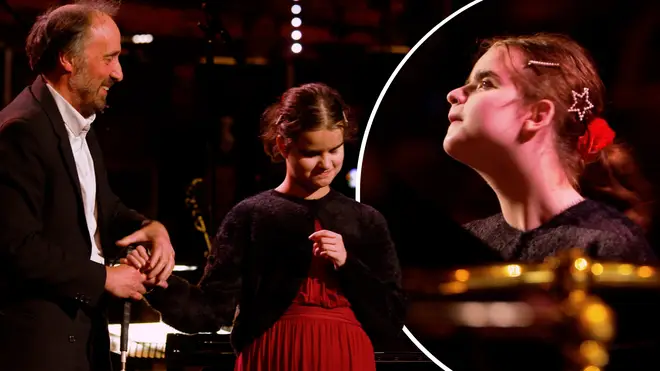 Lucy, who won Channel 4's The Piano, returns to enchant the world with her incredible musicality and a Bach prelude.
Lucy, a 15-year-old blind and neurodivergent pianist from Yorkshire, captured imaginations around the world when she appeared in Channel 4's popular TV show The Piano earlier in 2023.
Since being crowned unofficial 'winner' of the competition in March by judges Lang Lang and Mika, Lucy has become a rising star in music. She performed at the King's Coronation Concert in the summer, playing two pieces of piano music – Debussy's Arabesque No.1 (watch here), and Bach's Prelude in C.
And in October, Lucy played her two signature pieces to a packed, 6,000-strong Royal Albert Hall audience, marking her debut at the iconic London concert hall.
Seated at the piano next to her teacher Daniel, in front of the Royal Liverpool Philharmonic Orchestra, Lucy plays the Prelude with absolute confidence and grace, the notes flowing from her fingertips with stunning ease as she gets lost in the music.
While Lucy experiences sensory challenges, she loves to receive applause after her performances. Just watch her heartwarming reaction to the audience's response…
Read more: Who is Lucy from The Piano? Blind and neurodivergent young pianist has a new documentary
Lucy plays enchanting Bach prelude in Royal Albert Hall debut | Classic FM Live
A clip of Lucy playing the Debussy Arabesque went viral last week on Classic FM's social media, with over five million views on Instagram alone. Lucy has since gained online fans in the likes of actor-comedians Tim Minchin and Josh Gad, as well as actress Marion Cotillard, who commented "Wow" on the clip.
One user commented: "Showing the power that's beyond our understanding."
Another wrote: "Proud of her. There must be many colors and imaginations in her mind."
Lucy met her teacher, Daniel through a charity called The Amber Trust, which provides music lessons, instruments and even concert tickets for blind and partially-sighted children.
Daniel, who also teaches music at Highbury Primary School, appeared next to the young pianist throughout the Channel 4 competition, as he did during her Royal Albert Hall debut, helping her to the piano and encouraging her to 'find the pedal' before beginning her performances.
The teenage pianist is next set to appear in a 70-minute-long documentary on Channel 4, exploring how she communicates through music.