Royal wedding cellist Sheku Kanneh-Mason records Elgar's Cello Concerto at Abbey Road Studios
10 January 2020, 12:39
Kanneh-Mason has recorded Elgar's monumental work at just 20 – the same age Jacqueline du Pré was when she set down her iconic take on the concerto.
Sheku Kanneh-Mason has released Elgar's Cello Concerto with the London Symphony Orchestra and Sir Simon Rattle, marking the young cellist's second album on Decca Classics.
At just 20, the 'Royal wedding' cellist has recorded the enduringly popular work at the same age as Jacqueline du Pré recorded her iconic version.
The recording – made at Abbey Road studios – comes off the back of the news of Sheku Kanneh-Mason's appointment as MBE, and his new role as Ambassador of inner-city music charity, London Music Masters.
Read more: Sheku Kanneh-Mason appointed MBE in New Year's Honours >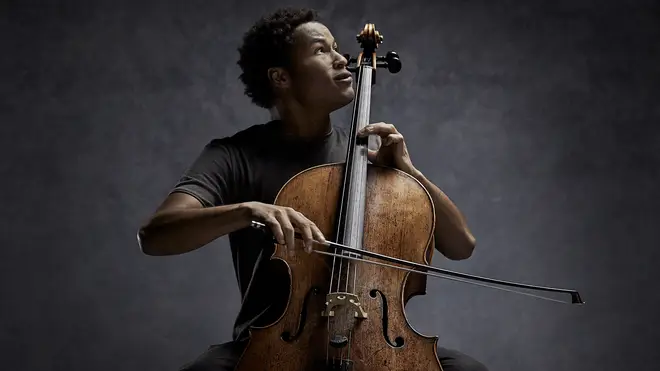 Other works on the album include an arrangement of Elgar's 'Nimrod' from the Enigma Variations, Fauré's Elégie in C minor, and arrangements of traditional songs 'Scarborough Fair' and 'Blow the Wind Southerly'.
This recording is made in the new Dolby Atmos sound, which picks up every detail for as immersive and 'high definition' an experience of Elgar's sublime music as you might have in an intimate live concert setting. It makes for a stunning listen.
"All the pieces are connected, either exercising similar emotions to the Cello Concerto, or written around the same time," Sheku explains. "It's how I feel about the music that really motivates me to work and discover and develop my own ideas – that's what keeps me going."
It's easy to forget how early Sheku still is in his career.
He is still a student at the Royal Academy of Music, and was only 19 when he played at Prince Harry and Meghan Markle's wedding in 2018. He released his first album shortly afterwards and it entered the Official UK Album Chart at No.11 – a rare occurrence for a core classical album.
Sheku described recording Elgar's concerto as an "honour", telling Classic FM's John Suchet that the work has been special to him since he heard his hero Jacqueline du Pré's version of the work.
He also indicated that he may well revisit the work later in his career, undoubtedly giving us a completely different, but no less thrilling, interpretation. We can't wait.
Sheku's Elgar is John Suchet's Album of the Week next week – listen to John's show at 10am every week day from Monday 13 January to hear highlights.