Remembering the cool genius of Tony Bennett with this eternal 'New York, New York' Andrea Bocelli duet
21 July 2023, 14:32 | Updated: 21 July 2023, 14:57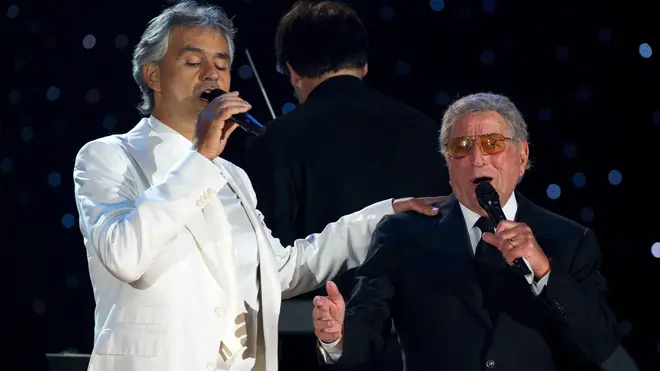 The music world mourns the loss of one of the great voices of the past century, as Tony Bennett has died, aged 96.
With the passing of legendary crooner Tony Bennett, the world has lost one of its biggest vocal icons.
The singer was born in Queens, New York on 3 August 1926. And with his suave tailoring, effortless style and jazzy, smoky voice, he was a true icon of 20th-century New York.
So what better way to remember him, than with this musical tribute to the city that never sleeps.
Live from Central Park's great lawn in September 2011, Bennett stepped up on stage with the great Italian tenor Andrea Bocelli, to perform a free outdoor concert to the people of New York.
As ever with Bennett, age was immaterial as he breezed through the entertainer's song, with Bocelli by his side. Watch as two great voices join in a moment of music never to be forgotten...
Andrea Bocelli, Tony Bennett - New York, New York (HD)
Bennett made his name in the big band, Broadway tunes, and jazz. He sang with almost every major figure in popular jazz, from band-leading legends to intimate duets with pianist Bill Evans.
Over his career he has been awarded 20 Grammy Awards, a Lifetime Achievement Award, In 2021, he broke the Guinness World Record for the oldest person to release an album of new material, at the age of 95 years and 60 days.
Bennett once described himself as a tenor who sings like a baritone. For 70 years he has been known for his rich voice and natural gravelly tone, but there was also a classical technique behind his vocal longevity.
"I learned the vocal practice of bel canto singing, which many opera singers use and it's a very good technique for keeping your voice in good shape," he once revealed in an interview.
A new century brought collaborations with Lady Gaga, Billy Joel and this with Andrea Bocelli.
Bennett was diagnosed with Alzheimer's disease in 2016, and went public five years later.
We're sure the city that never sleeps, will grant this legend of music rest.