Vladimir Putin just played the piano in between meetings… and it was not impressive
15 May 2017, 12:19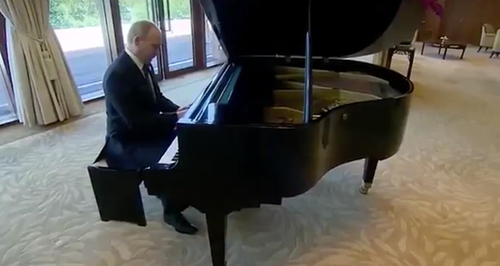 The Russian president took a couple of minutes out ahead of bilateral talks with the Chinese President Xi Jinping… to play the piano. But it's fair to say the internet was not particularly impressed
Putin was in Beijing to discuss China's new Silk Road plan, but the main news from the summit so far has been his casual moment at the piano.
He sat down at the piano and played a couple of melodies which, according to news reports, were Soviet-era songs about Moscow and St Petersburg.
The New York Times reports that the tunes are Evening Song by Vasily Solovyov-Sedoi and Moscow Windows by Tikhon Khrennikov – two songs from the 1950s that Putin may have first heard as a child living in the Soviet Union.
Although the performance appeared to be spontaneous, there was a cameraman on hand and the clip has been widely circulated to the world's media. Preparations clearly didn't run to getting a piano tuner in, though *winces*.
Evening Song has become something of an unofficial anthem of St Petersburg (formerly known as Leningrad) and is usually performed with words praising the city.
Moscow Windows, meanwhile, is a song about friendship. You can hear the great Russian baritone performing them, slightly more tunefully, on his album Moscow Nights.